This article will analyze the 1INCH coin according to coinmarketcap data. First, we will discuss the 1INCH coin and its projects and make technical and graphic analyses. The analysis we will do in the weekly period will help the investors to take risks and manage their portfolios.
What is 1INCH Coin?
1INCH is a cryptocurrency that powers the 1inch Network, a decentralized exchange aggregator that connects multiple decentralized exchanges (DEXs) to provide users with the best available prices and liquidity for their trades.
The 1INCH Network is designed to help users save on gas fees and optimize their trades across multiple DEXs, making it a popular choice among traders in the decentralized finance (DeFi) space.
What are the projects of 1INCH?
Some projects associated with 1INCH include the 1inch Liquidity Protocol, which enables liquidity providers to earn rewards by supplying liquidity to the Network, and the 1inch Wallet, which allows users to easily access the 1inch Network and trade across multiple DEXs.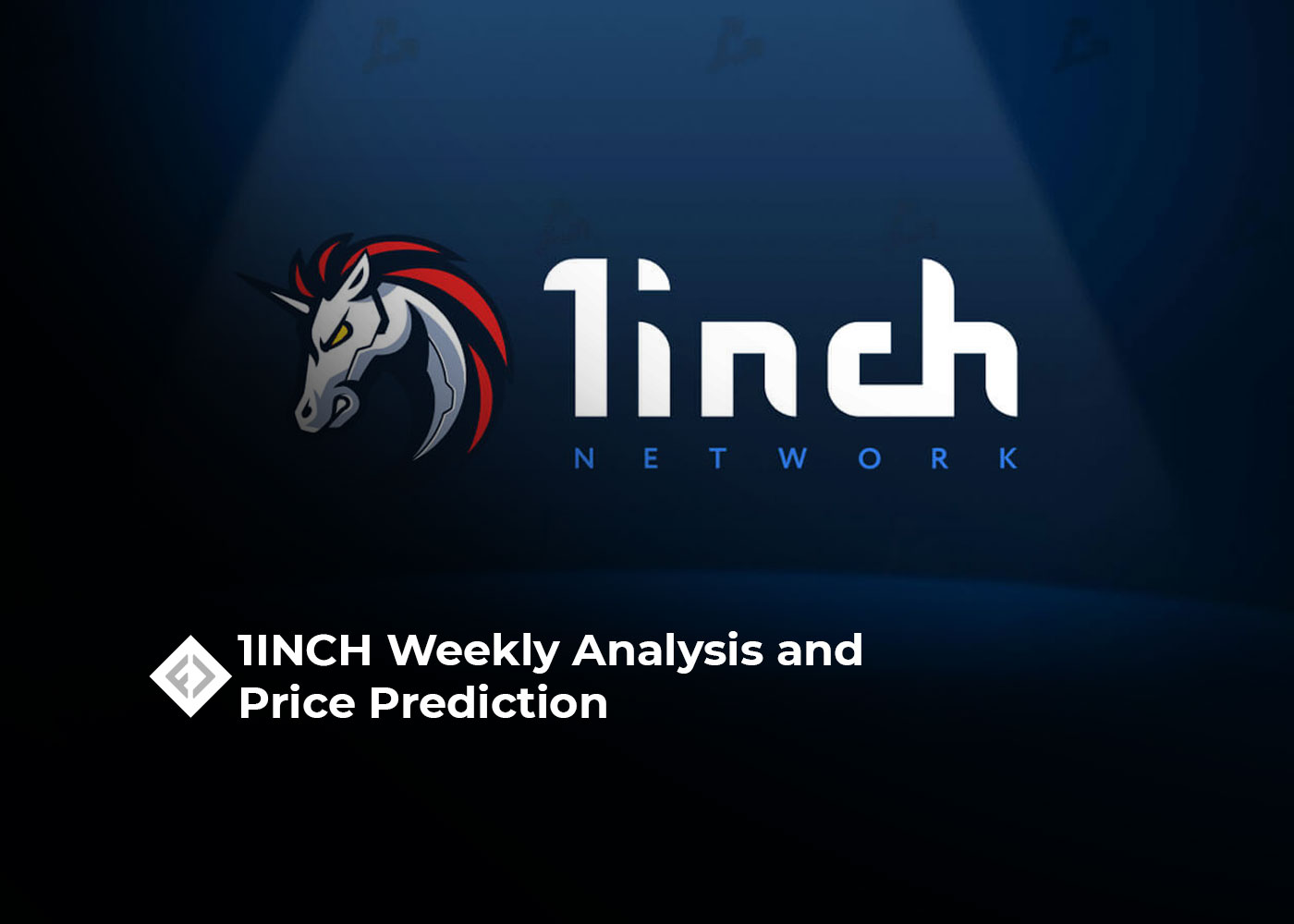 Factors Influencing 1INCH Price
The Price of 1INCH, like any other cryptocurrency, is influenced by a range of factors, including market demand and supply, investor sentiment, the adoption and growth of the 1inch Network, and overall trends in the cryptocurrency market. Other factors that could impact the Price of 1INCH include regulatory changes, technological developments, and competition from other decentralized exchange aggregators or cryptocurrency projects.
1INCH COİN TECHNICAL ANALYSIS
1INCH, which started from $0.20, rose by almost 3850%, ending at $ 7,875 in December 2020 and entering a downtrend, declining 95% from $ 7,875 to $ 0.528. INJ, which gained value with the purchases in the market from the beginning of 2023 until today, is currently trading at $ 0.528. According to coinmarketcap data, 1INCH, which has a size of $455,973,762, has had a volume of $42,433,474 in the last twenty-four hours.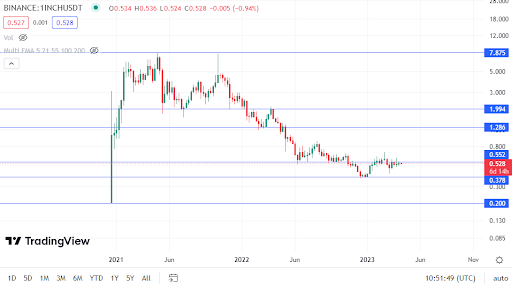 1INCH Chart Analysis
1INCH, which increased by 3850% in 2020 from $ 0.20 to $ 7,875 in 2020, decreased by almost 95% in 2022 to $ 0.378. In 2023, 1INCH, which has increased by 50%, continues to be traded at $ 0.528. As of this week, 1INCH, trading close to the resistance zone, targets $1,286 if it closes above the 0.552 resistance. In the case of selling pressure in the market, pullbacks can be seen up to $ 0.378.
This article does not contain investment advice or recommendations. Every investment and trading move involves risk, and readers should conduct their research when deciding. This article does not include investment advice or suggestions. Every investment and trading move involves risk, and readers should perform their analysis when determining.
You may be interested in: