This article will analyze the BEL Token according to www.coinmarketcap.com data. First, we will discuss the BEL Token and its projects and make technical and graphic analyses. The analysis we will do in the weekly period will help the investors to take risks and manage their portfolios.
What is BEL Token?
The Bella Protocol (BEL) token is the native cryptocurrency of the Bella Protocol , a suite of DeFi products designed to simplify and enhance the user experience in decentralized finance. It operates on the Ethereum blockchain and aims to provide a one- stop platform for users to access various DeFi protocols .
What are the projects of BEL?
Projects associated with the Bella Protocol (BEL) token include :
Bella Liquidity Mining :  Users can stake their BEL tokens into liquidity mining pools to earn rewards in other tokens offered by partnered protocols or platforms within the Bella ecosystem .
Flex Savings : The Flex Savings feature enables users to optimize their yield farming strategies by automatically reallocating funds across different lending protocols based on interest rates and risk levels
Lending Platform :The Bella Protocol offers a platform where users can borrow or lend various cryptocurrencies using their BEL tokens as collateral .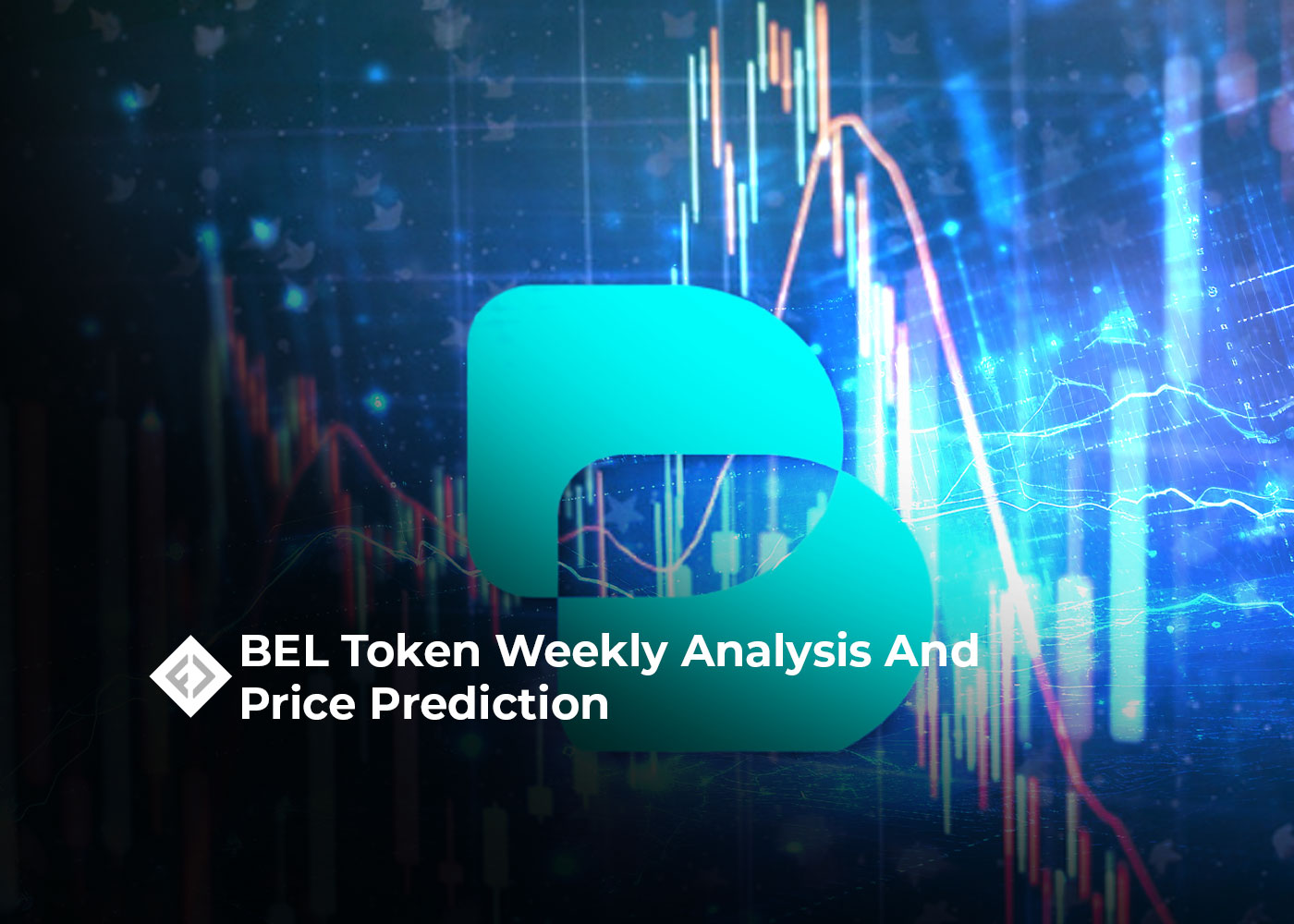 Factors Influencing BEL Price
Factors that could influence the price of the BEL token may include :
Adoption and Usage :  Increased adoption of the Bella Protocol's suite of products by users seeking simplified DeFi services can positively impact demand for BEL tokens as more participants require them to access these services or participate in related activities
Technological Advancements :  Technological developments made by the team behind Bella, like improvements in the user interface and new functionalities/features, might enhance user experience,  thereby driving potential growth in demand for BEL
Market Sentiment :  Overall sentiment within both cryptocurrency markets & DeFi space towards projects offering simplified access to decentralized finance solutions could affect investor sentiment towards specific tokens like BEL , thereby influencing their price movements
Competition:  The presence of other platforms or protocols offering similar services within the DeFi sector could impact investor perception regarding value proposition relative to competing options available
These factors are general considerations; each cryptocurrency has unique dynamics depending on its specific use case and circumstances. Always conduct thorough research before making investment decisions involving cryptocurrencies like Bella Protocol (BEL) tokens or others .
BEL TOKEN TECHNICAL ANALYSIS
After seeing its historical high of $ 19.0000 in September 2020, BEL dropped 98% by the end of 2022, down to $ 0.3750. Although it went up to $ 1.3400 with the purchases in the market in  February 2023, it is currently trading at $ 0.7266. According to www.coinmarketcap.com data, BEL has a size of $43,809,953 and a volume of $9,832,184 in the last twenty-four hours .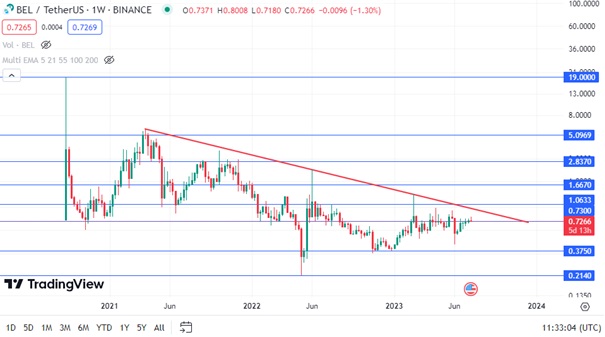 BEL Token Chart Analysis
After testing its historic high of $19,000 in September 2020, the BEL token fell 98% to $0.3750 by the end of 2022. The BEL token, which rose to $ 1.3400 with the buy-side movement in the market in February 2023, could not maintain this rise and is currently traded at $ 0.7266. When we examine its weekly chart, it is seen that the BEL token tried to break the downtrend (red line) twice and failed. The weekly support zone for the BEL token, which must break the downtrend up to start an uptrend, is $0.5430, and the resistance zone is $0.9700, which is the downtrend line.
This article does not certain investment advice or recommendations. Every investment and trading move involves risk, and readers should conduct their research when deciding. This article does not include investment advice or suggestions. Every investment and trading move involves risk, and readers should perform their analysis when determining.