The craze over Non-Fungible Tokens (NFTs) continues to grow, with more and more people entering the market each day. With this rapid increase in interest surrounding NFTs comes a need for a greater understanding of what these tokens are and how they function within the digital world. One question that often arises is: Can an NFT be destroyed? In this blog post, we'll aim to answer this question and explore some of the key considerations for safeguarding your NFT investments.
A Quick Reminder: What Is an NFT?
NFT stands for Non-Fungible Token. It is a type of digital asset that represents ownership or proof of authenticity of a unique item or piece of content, such as artwork, music, videos, or tweets. Unlike cryptocurrencies, which are fungible and interchangeable, each NFT is unique and cannot be replicated or exchanged for another NFT on a one-to-one basis. NFTs are usually built on blockchain technology, which provides a secure and transparent record of ownership and transfer. NFTs have gained popularity in recent years, particularly in the art world, as a way to monetize digital art and provide artists with a new revenue stream.
So, Can an NFT Be Destroyed?
Can an NFT be destroyed? Sure.
NFTs, unlike physical art pieces or collectibles, cannot be destroyed in the conventional sense. But that doesn't mean they are indestructible: the process of NFT burning can effectively remove an asset from its respective blockchain ledger and permanently "destroy" it.
NFT burning is an intentional act of permanent destruction, a way for the owner of an NFT to take it off-circuit by executing a transaction on the blockchain that activates its associated smart contract. This process results in the complete removal and destruction of the digital asset from the blockchain's ledger forever.
Before burning an NFT, it is critical to take into account the permanent nature of this action and understand that the digital asset or content linked to the NFT can no longer be accessed or transferred. Additionally, certain platforms may not support burning activities at all or require additional permissions before doing so. Thus, one must always thoroughly consider their choice prior to setting a course of action with irreversible results.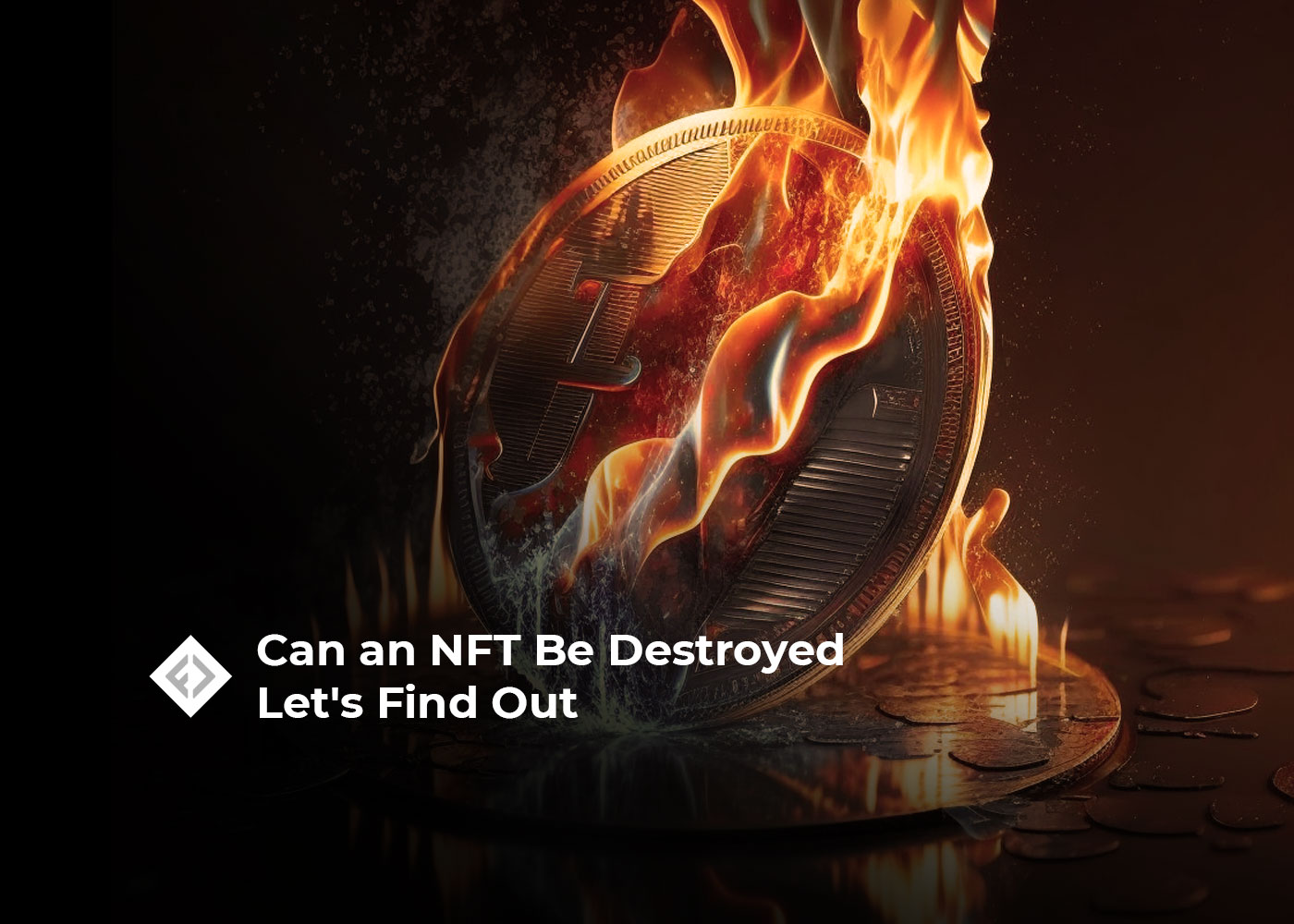 Why Would You Destroy an NFT?
There can be several reasons why someone might choose to destroy an NFT, including:
To increase scarcity and value: Incinerating an NFT can reduce its supply and consequently make it more sought-after by enthusiasts, thereby increasing its value.
To make a statement: For some, burning an NFT may be a form of expression – used as a way to demonstrate the worthlessness of its creation or sale in protest.
To ensure exclusivity: To ensure their collection's exclusivity, some NFT owners may opt to burn an NFT. This way, they can prevent others from possessing that particular item and make their selection one-of-a-kind.
To comply with legal or ethical concerns: In certain scenarios, the content associated with an NFT may be deemed offensive or illicit. To remove their name from such a situation, the owner of said NFT can always opt to burn it as a final act of removal.
Conclusion:
To summarize, NFTs are something of an enigma. They represent ownership and intellectual property rights through tokens stored on a blockchain, yet there remains some confusion about whether the NFT itself can be destroyed. It appears the answer is both yes. By burning the NFT, you can destroy it. Why you want to destroy an NFT is up to you. But there is a way.
You may be interested in: