This article will analyze the GHST Token according to www.coinmarketcap.com data. First, we will discuss the GHST Token and its projects and make technical and graphic analyses. The analysis we will do in the weekly period will help the investors to take risks and manage their portfolios.
What is GHST Token?
The Aavegotchi (GHST) token is the native cryptocurrency of the Aavegotchi platform, which combines elements of decentralized finance (DeFi) and non-fungible tokens (NFTs). It aims to create digital collectible ghost avatars that can be owned , traded , and interacted with on the Ethereum blockchain .
What are the projects of GHST?
Projects associated with the GHST coin include :
Digital Collectibles: The primary project of the GHST coin is its integration into the Aavegotchi platform for creating and owning unique digital collectible avatars called "Gotchis." Each Gotchi is represented by an NFT with specific traits , wearables , and characteristics determined by their smart contract .
Staking & Rarity Farming : Holders of GHST tokens can stake them within the Aavegotchi ecosystem to earn additional rewards or participate in Rarity Farming events. Stakers may receive yield-bearing tokens and access exclusive features or benefits tied to their staked assets .
Community Governance: GHST token holders have governance rights within the Aavegotchi DAO (Decentralized Autonomous Organization). They can participate in decision-making processes related to protocol upgrades , game mechanics adjustments , new feature proposals , treasury management decisions, and more
Collateral for Loans: In addition to its utility within Aavegotchi's gaming ecosystem , there are plans for implementing collateralization mechanisms where GHST tokens could be used as collateral for borrowing loans through protocols like AAVE .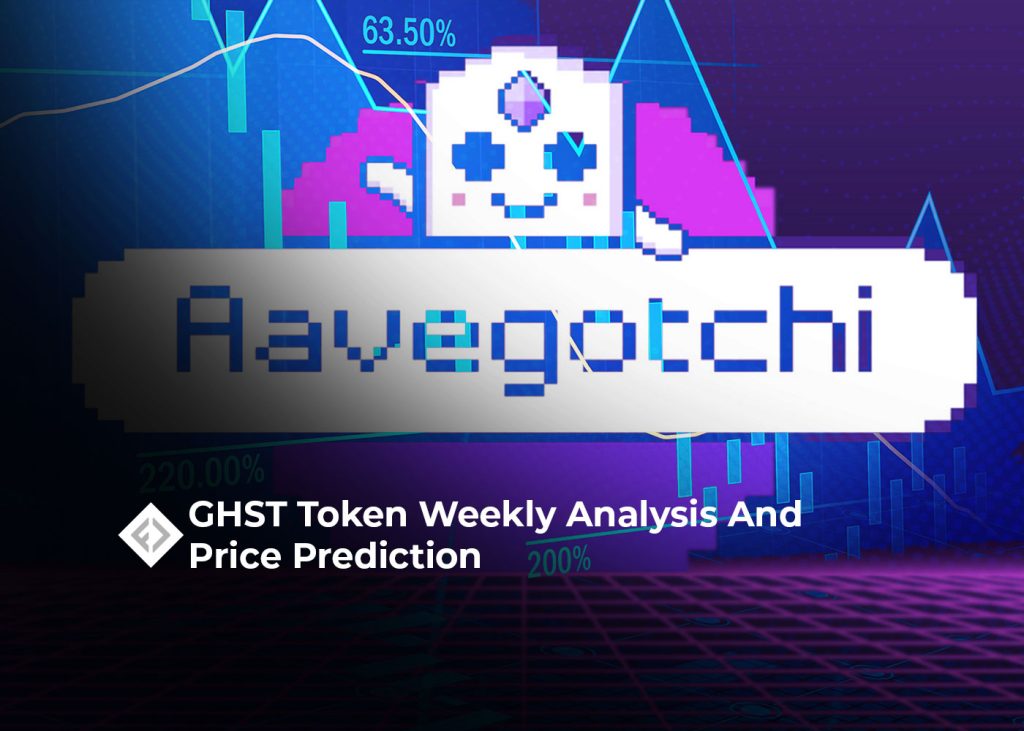 Factors Influencing GHST Price
Factors that can influence the price of the Aavegotchi (GHST) coin include :
User Adoption & Demand: Increased adoption of the Aavegotchi platform driven by user engagement with buying / selling Gotchis or participating in staking pools could increase demand for GHST tokens .
Marketplace Activity : Trading activity on secondary markets for Aavegotchis and associated virtual wearables can impact the price of GHST tokens. These digital collectibles' rarity , popularity , and perceived value may influence market sentiment
Overall Market Conditions : General market conditions within the broader cryptocurrency space can also affect GHST token prices. Trends in sentiment across cryptocurrencies , regulatory developments , or macroeconomic factors can impact investor confidence and the movement of GHST tokens
Gaming Community Engagement: The level of engagement from gaming enthusiasts within the Aavegotchi community could shape the demand for GHST tokens. Active participation in gameplay mechanics , community events , or new feature releases might positively impact token prices
Partnerships & Integrations : Collaborations with other projects or platforms within the DeFi/NFT ecosystem could generate positive sentiment around Aavegotchi and its native token .
It is important to note that cryptocurrency markets are highly volatile, influenced by various external factors beyond those mentioned above; therefore, conducting thorough research and staying updated with official sources when considering investments related to specific cryptocurrencies like GHST Tokens is advisable .
GHST TOKEN TECHNICAL ANALYSIS
After seeing its historical high of $ 3.306 in November 2021, GHST dropped 70.60% by the end of 2022, down to $ 0.971. Although it went up to $ 1.698 with the purchases in the market in February 2023, it is currently trading at $ 0.902. According to www.coinmarketcap.com data , GHST has a size of $47,717,923 and a volume of $1,616,219 in the last twenty-four hours .
GHST Token Chart Analysis
After testing its historical high of $3,306 in November 2021, the GHST token slumped 70.60% by the end of 2022 and declined to $0.971. Although it rose to $ 1,698 with the buy-side movement in the market in February 2023, it is currently trading at $ 0.902, below the 2023 opening price. Examining its weekly chart , the GHGT token is trying to stay above the $0.900 support. Selling pressure could increase if the $0.900 support zone is broken down. At weekly closes above $0.900, the targets will be $0.907 and $1,083, respectively .
This article does not certain investment advice or recommendations. Every investment and trading move involves risk, and readers should conduct their research when deciding. This article does not include investment advice or suggestions. Every investment and trading move involves risk, and readers should perform their analysis when determining.