This article will analyze the MINA coin according to coinmarketcap data. First, we will discuss the MINA coin and its projects and make a technical and graphic analysis. The analysis we will do in the weekly period will help the investors to take risks and manage their portfolios.
What is MINA Coin?
Mina Coin (MINA) is a cryptocurrency that aims to solve one of the biggest challenges of blockchain technology: scalability. MINA is built on a unique blockchain protocol called "Mina Protocol" that uses a constant-sized proof-of-stake architecture and a straightforward blockchain design to achieve scalability, decentralization, and security.
What are the projects of MINA?
MINA coin has several projects, including:
Building a decentralized ecosystem that enables developers to create and deploy decentralized applications (dApps) and smart contracts.
Creating a user-friendly platform that allows users to store, trade, and exchange MINA coins and other digital assets.
Providing a secure and censorship-resistant payment system that can be used globally.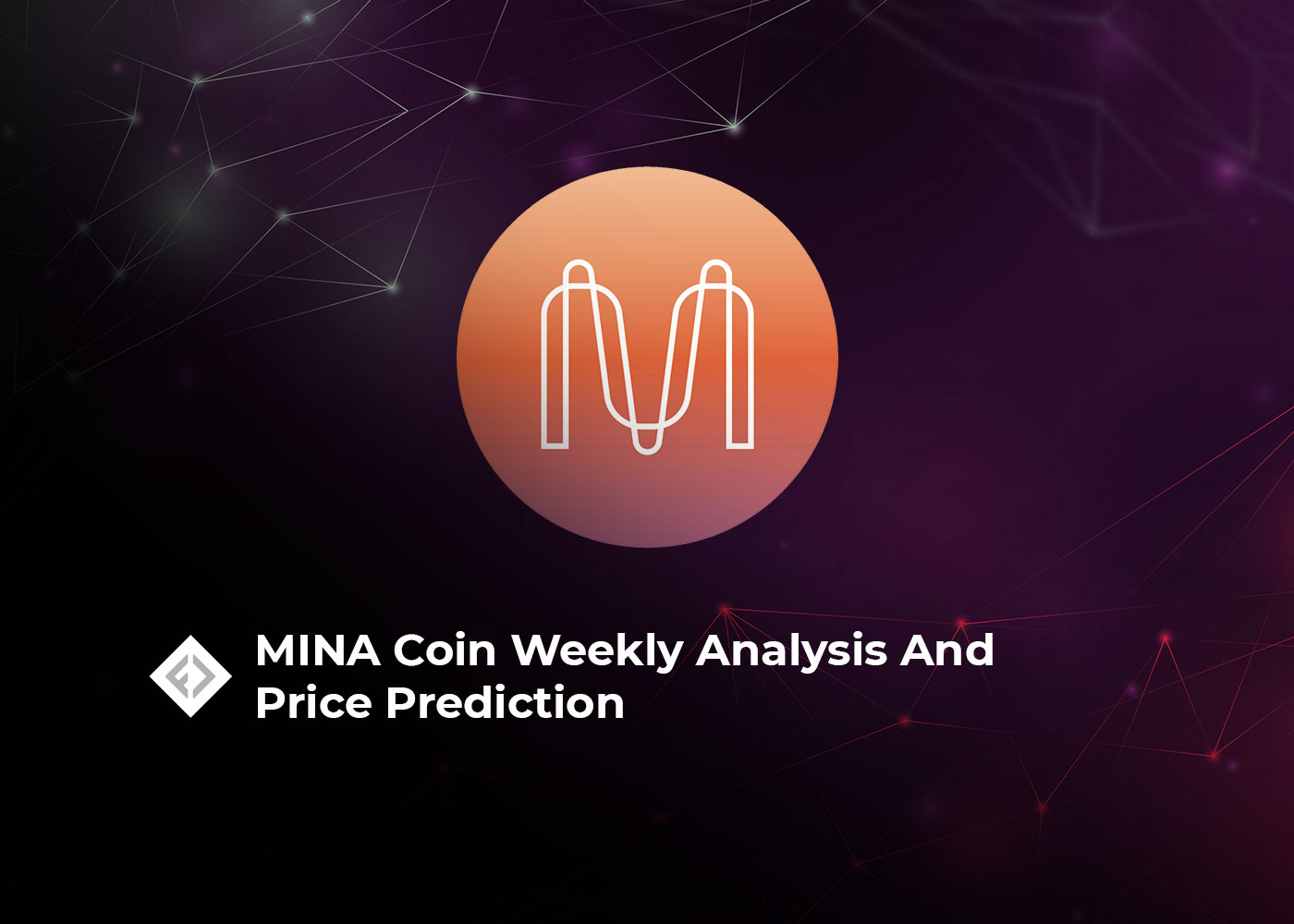 Factors Influencing MINA Price
The price of MINA coin, like other cryptocurrencies, is influenced by several factors, including:
Market demand: The supply and demand dynamics in the cryptocurrency market can significantly impact the price of MINA coins. If there is high demand for MINA coins, their price can increase, and vice versa.
Investor sentiment: The sentiment of investors and traders towards MINA coin can also influence its price. Positive news and developments can increase demand for the coin, while negative information can lead to a decrease in order.
Adoption and usage: The more people that use and adopt the MINA coin, the higher its value will likely be. If more merchants and businesses accept MINA as a payment method, it could increase demand for the coin, increasing its price.
Network and development: The strength and growth of the Mina Protocol network and its development progress can impact the price of the MINA coin. If there are improvements to the web, it could lead to increased adoption and usage, which can lead to a higher price.
Competition: The presence of other blockchain projects that offer similar solutions or compete with the Mina Protocol could impact the demand for MINA coin and its price.
MINA COIN TECHNICAL ANALYSIS
After seeing its highest value of $ 6,684 towards the end of 2021, MINA, which started to decline, decreased by approximately 94% to $ 0.423. MINA began to recover from the beginning of 2023 and is currently trading at $0.744. According to coinmarketcap data, MINA, which has a size of $654,284,680, has had a volume of $24,885,581 in the last twenty-four hours.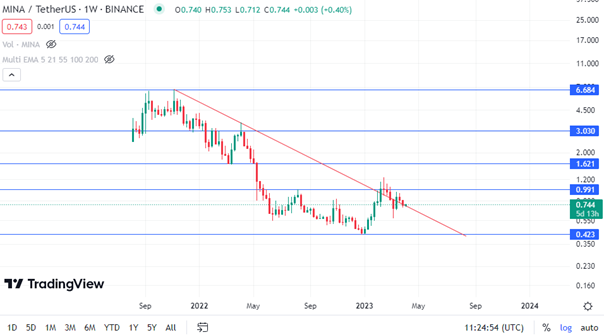 MINA Chart Analysis
After seeing the highest value of $ 6,684, MINA, which started to decline and continued its downtrend for over a year, recovered a little after falling to $ 0.423 and then fell again after rising above $1.20. The MINA chart, which is currently traded at $ 0.744, broke this trend at the beginning of 2023 after continuing the downtrend for more than a year. The initial targets of MINA are $0.991 and $1,621, which I expect to move upwards weekly unless it enters the downtrend again. If it enters the falling downtrend, there may be a pullback to the $ 0.423 support level.
This article does not contain investment advice or recommendations. Every investment and trading move involves risk, and readers should conduct their research when deciding. This article does not include investment advice or suggestions. Every investment and trading move involves risk, and readers should perform their analysis when determining.
You may be interested in: