Belgium-based NGRAVE Zero is founded by Ruben Merre, Xavier Hendrickx and Edouard Vanham which is a pioneer in blockchain and digital asset security. Hendrickx who has background in computer science and previous experience as the CTO of Swarm City was motivated to develop blockchain applications after being impacted by the Mt Gox hack in 2014 . NGRAVE's primary goal is to create highly secure crypto and blockchain products that are also user-friendly. They partnered with renowned institutions in nanotechnology and cryptography research to achieve this.
The NGRAVE Zero Wallet: Unparalleled Security and Intuitive Interface
The NGRAVE Zero wallet is a physical, safe hardware device that offers airtight protection for storing cryptocurrencies and NFTs. It is known as the "coldest crypto wallet" thanks to its cutting-edge security features and offline capability. Users can establish private keys, sign transactions and manage several crypto wallets. The gadget is fully offline thus requires no network connections such as NFC, WiFi, Bluetooth or USB. Communication takes place using clear QR codes which ensures utmost security.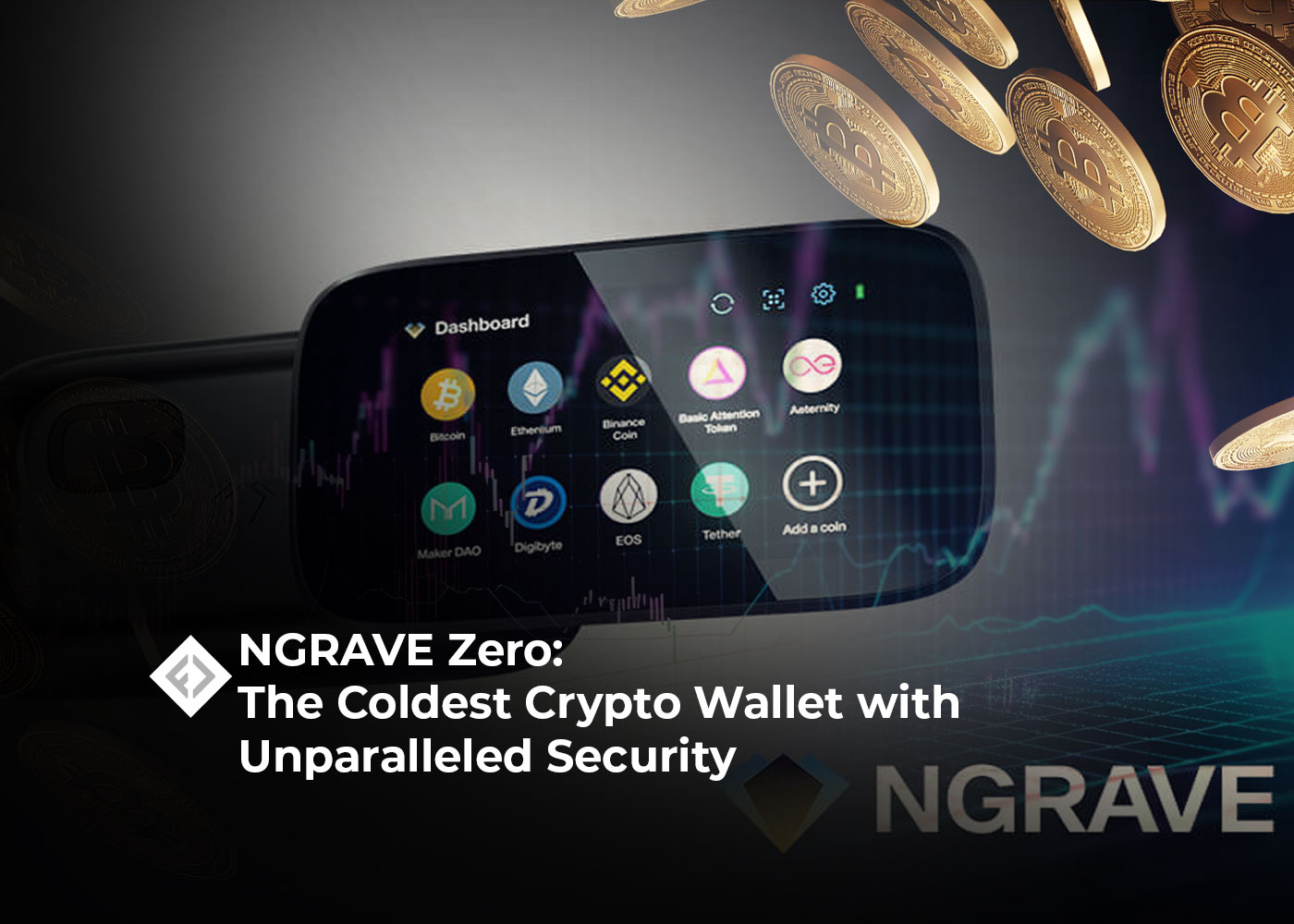 Standout Features and Unrivaled Security Measures
The NGRAVE Zero wallet stands out with its exceptional features and security measures .
By using easy taps and swipes users may manage up to 100 crypto wallets (accounts) on the device's touchscreen.
The Zero wallet does not require network access and communicates only through QR codes . This keeps private keys offline and shielded from remote assaults.
NGRAVE carries the highest level of security certification EAL7 which makes it the first financial product with a registered EAL7-certified operating system.
NGRAVE designed its operating system from the ground up and assures independence from smartphone operating systems . This customized operating system reduces the vulnerabilities associated with regular hardware wallets.
The Zero wallet has a biometric sensor which offers an additional degree of protection . Users may unlock the smartphone and sign transactions with their fingerprint and an 8-digit PIN code.
NGRAVE Zero Wallet and NFT Support
The NGRAVE Zero wallet unlike most other hardware wallets supports NFTs . The NGRAVE Liquid App allows users to conveniently keep their Ethereum-based NFTs offline . Users may receive and maintain their NFTs offline by using the Zero gadget to create an ETH crypto wallet .
NGRAVE's Broad Blockchain Coverage and User Experience
The NGRAVE Zero wallet as of now supports Bitcoin Ethereum Polygon and Solana as well as more than 1500 ERC-20 tokens . NGRAVE users may utilize the NGRAVE Liquid App to store and view their preferred tokens as well as exchange assets . In addition the business is focusing on adding support for Solana-based NFTs and creating Bitcoin multi-sig capability.
While the NGRAVE Zero wallet shines in terms of security the user experience could bring about some difficulties. The multi-step procedure of entering PINs, reading QR codes and verifying fingerprints can be time-consuming. As a result the NGRAVE Zero wallet is better suited for long term asset storage rather than usage on a daily basis .
Overall the NGRAVE Zero wallet sets a new standard for digital asset security with its EAL7-certified operating system, air-gapped functionality and support for NFTs . Despite its less streamlined user experience it is an appealing choice for those who are seeking unparalleled protection for their cryptocurrencies and NFTs .