In decentralized governance, many companies are overseen by a board of directors or a limited number of people. The traditional average size for the most significant businesses' boards is about ten individuals with tremendous power over how these firms operate. They can select and dismiss key executives, choose which initiatives to invest in, and determine the company's strategy.
Governance tokens represent a revolutionary way to manage organizations. They are especially popular in decentralized autonomous organizations (DAOs) and decentralized finance (DeFi). These tokens offer an equitable, transparent governance system; one token equals one vote. Moreover, these tokens have been created to bring communities together to improve blockchain projects. In sum, governance tokens promote healthy development within this space!
In Their Simplest Form, Governance Tokens Give Their Holders Voting Rights
Governance tokens are the cornerstone of decentralized governance in DAO, DeFi, and DApp projects. They reward dedicated users for their loyalty and engagement to the community by allowing them to vote on major project development decisions. Voting is usually done through smart contracts that automatically execute after collecting votes. This ensures effective decision-making within these platforms while simultaneously preserving user autonomy over important matters related to their investments.
MakerDAO, a DAO based on the Ethereum blockchain, released one of the first governing tokens ever. This token is known as MKR, and it gives holders one vote each regarding how their protocol should be managed; this includes appointing team members, changing fees, and adopting new rules. All decisions are made via voting within the network, with those with more votes having an ultimate say in what happens. This system's overall purpose is to ensure that MakerDao's stablecoin remains secure, transparent, and efficient for users at all times.
Compound, another example, is a DeFi protocol that allows people to lend and borrow cryptocurrencies. Its governance token, called COMP, grants its user base the power to vote on critical decisions; tokens are distributed by users' activity on-chain. Put simply, users who participate more by lending or borrowing will receive more COMP tokens. The voting system works similarly to MakerDAO's – one vote per each COMP token held. In 2020, Compound gave up its hold on the network's admin key as users can now delegate their tokens to others and allow them to vote in their stead. This move allowed token holders alone to govern the project without any other forms of governance being necessary.
Noteworthy governance tokens include those issued by decentralized exchange Uniswap and PancakeSwap, DeFi lending platform Aave, Web3 NFT community ApeCoin DAO, and virtual world platform Decentraland. Every project has its own guidelines related to how its respective governance token operates; they are distributed among stakeholders such as the founding team, investors, and users based on a specialized calculation system. Some of these tokens merely focus on casting votes for only certain governing matters, while others can vote in almost any scenario. Furthermore, several of these tokens grant financial dividends, whereas some don't have this feature associated with them at all.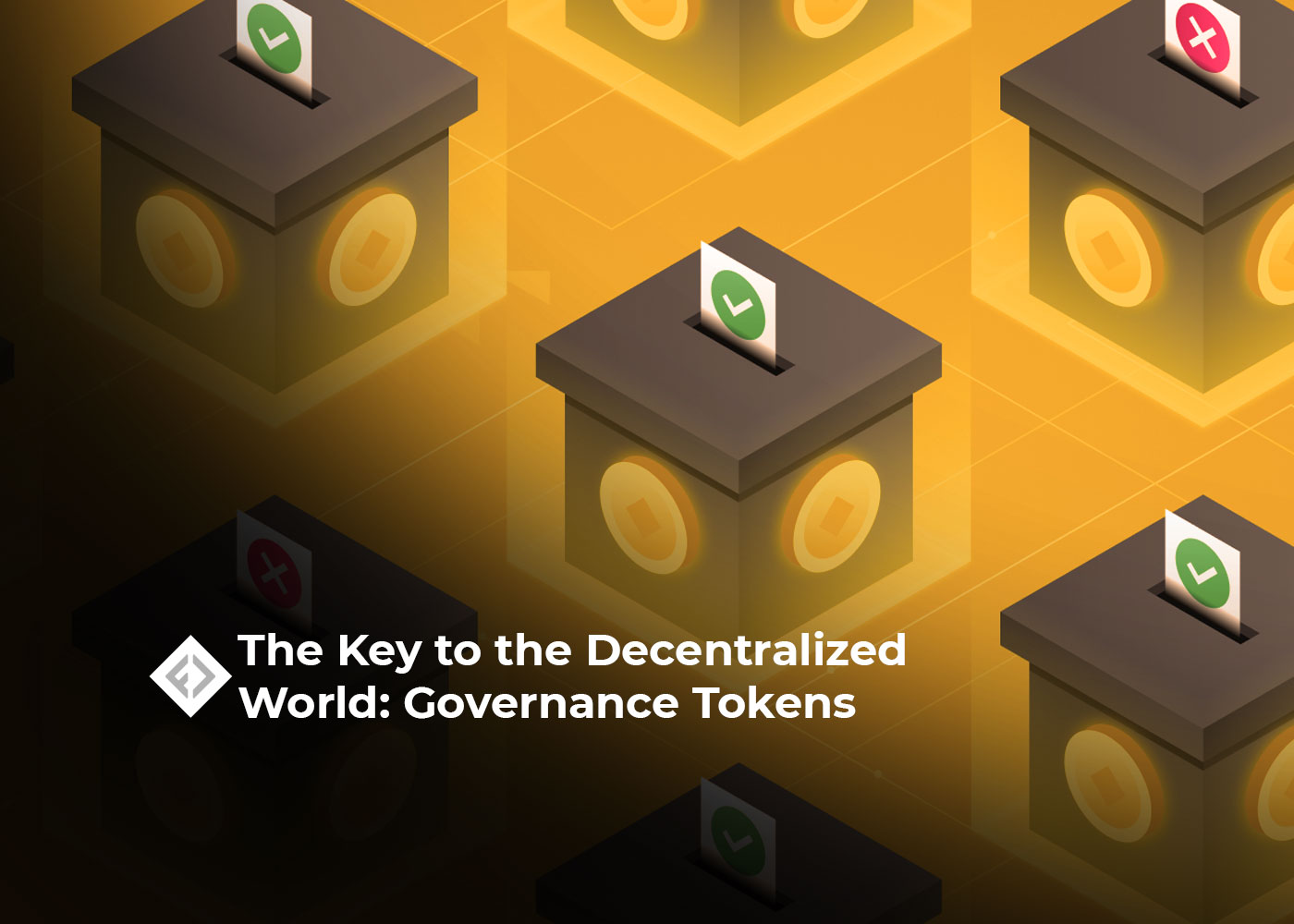 Decentralized Governance Tokens Have Some Advantages
Governance tokens bring many remarkable advantages, such as resolving the disaccord of interests usually found in centralized governance. Decentralized governance made possible by these tokens assigns that power to a broad group of stakeholders, thus unifying users and corporations alike.
Governance tokens are an excellent way to create strong and cooperative communities. Through the system of one vote per token, decisions can be made fairly, transparently, and without bias or favoritism. All proposals can be inspected by anyone before voting takes place – making corrupt behavior significantly harder in practice. In short: governance tokens provide projects with easy access to fair decision-making processes that serve everyone equally!
… And, Of Course, Some Disadvantages, too
A significant issue with government tokens is the "whales" problem. Whales are individuals who own a considerable amount of cryptocurrency. If whales possess an extensive part of the overall supply of its governance token, they can influence the voting process to benefit their interests rather than those of smallholders and investors alike. Therefore, projects must guarantee that all stakeholders share token ownership equally to ensure decentralization and fairness for everyone involved.
Despite the equitable distribution of governance tokens, there is no assurance that the collective decisions will always be favorable for all stakeholders. The "One-person, one-vote" system has existed for centuries, yet its results have been sporadic. Unfortunately, many times, we see cases where token holders vote to favor founding teams and bigger investors instead of a larger group of people. Thus it disrupts fair play in the community.
The Future of Governance Tokens:
Governance tokens, born from the crypto space, have a remarkable potential to be used across numerous sectors. The Web3 movement provides an environment for these governance tokens to help construct a decentralized internet. With DeFi and DAOs rapidly growing in popularity, industries such as gaming could also take advantage of this governance model.
Governance tokens are likely to become more intricate as creative solutions keep appearing to tackle various issues, such as the whale problem. In addition, new methods of delegating votes may be discovered too! That being said, potential regulatory alterations can also not be disregarded – a few governments could decide that these tokens are securities and subject them to stringent regulations, which could subsequently influence their functionality.
Decentralized Network: Final Words
Governance tokens are still in the infancy of development and have been a fundamental factor for DeFi and DAO projects' flourishing success. By allowing users to vote on management decisions, these tokens guarantee decentralization remains at the core of any project they're associated with. The "one token, one vote" concept prioritizes the involvement of users and their respective communities as long as tokens are allocated fairly among their members. As governance tokens become more popular in decentralized networks, Web3 applications, and games, they can be used to develop more active ecosystems. By placing all participants on equal standing with a single token, each entitling them a voice in decision-making processes, user-owned networks have the potential for unprecedented growth.
You may be interested in: