Are you overwhelmed by the sheer number of exchange-traded funds (ETFs)? Trying to choose between VUG and QQQ? Making the right investment choice can be daunting, but don't stress–we've got you covered! We'll guide you through the basics of both ETFs so that you can make an informed decision and decide which is right for your portfolio. By the end of this post, you should better understand what VUG and QQQ are, how they are distinct from each other, and know whether one or both would be suitable for your investing needs.
Overview of VUG ETF:
With a low expense ratio and more than $81 billion in AUM, Vanguard's VUG ETF is an attractive option for those seeking to invest in growth stocks. This fund tracks the performance of the CRSP US Large Cap Growth Index. Its portfolio comprises over 300 prominent large-cap U.S. companies that meet stringent criteria such as strong earnings growth, elevated P/E ratios & high P/B ratios. Although this strategy may lead to greater volatility due to its focus on higher rewarding yet riskier investments, it offers investors exposure across multiple sectors, including technology, healthcare & consumer services industries.
Overview of QQQ ETF:
QQQ is a top-of-the-line ETF that tracks the NASDAQ–100 Index, featuring 100 of the largest non-financial stocks listed on the NASDAQ stock exchange. This powerhouse fund has an expense ratio of 0.20%, more than $170 billion in assets under management, and is managed by Invesco — making it one of today's most sought-after investment vehicles. The portfolio includes a diverse mix of technology, healthcare, and consumer companies to offer investors immense diversification potential with minimal costs attached.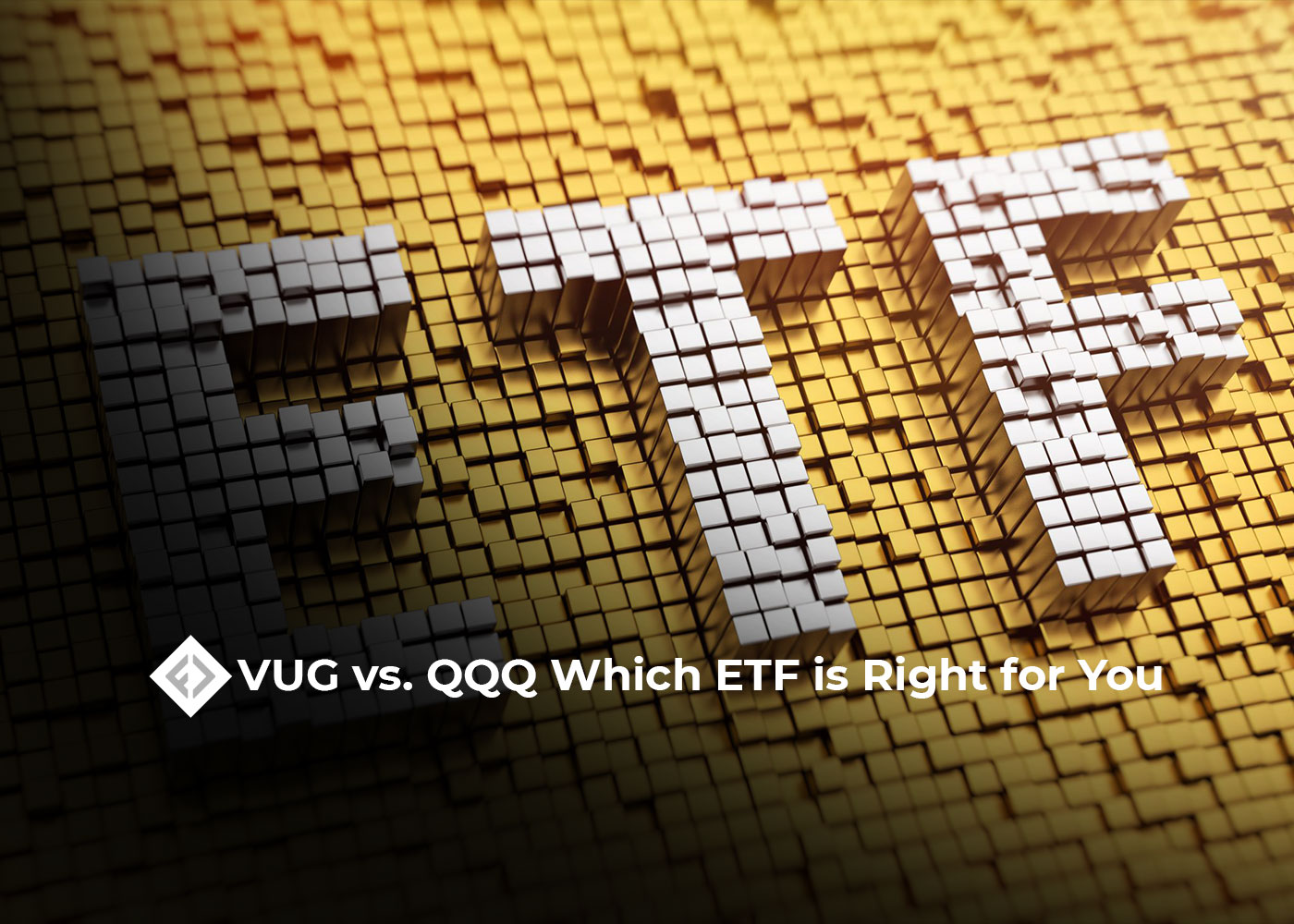 Differences Between VUG and QQQ:
The main differences between VUG and QQQ are:
Index: VUG's benchmark is the CRSP US Large Cap Growth Index, and QQQ focuses on the NASDAQ-100 Index. While both ETFs invest in large-cap companies, VUG zeroes exclusively on growth stocks in America. In contrast, QQQ includes only tech heavyweights trading at the iconic stock exchange of that name.
Holdings: While both ETFs hold stocks from industries such as technology, healthcare, and consumer services, the exact holdings of each ETF differ in their specific stock selection and weightings. The tech sector is especially highlighted, with QQQ focusing more on it than VUG.
Expense ratio: Compared to QQQ, with its expense ratio of 0.20%, VUG charges a far lower fee of only 0.04% for the same service, making it an excellent cost-saving option.
Performance: Depending on the length of time, VUG and QQQ may yield varying returns due to their distinct indexes and investments.
Which ETF Is Right For You: VUG vs. QQQ
The choice between VUG and QQQ ultimately depends on your investment goals and risk tolerance.
If you prefer broad exposure to large-cap U.S. growth stocks focusing on healthcare and consumer services while keeping expenses low, VUG is your ideal option. With its 0.04% expense ratio, it will help you minimize costs effectively. Conversely, if your investment appetite leans toward technology-heavy portfolios at slightly higher cost levels, QQQ may be more suitable for you as this fund heavily invests in high-growth tech sector products.
It's worth noting that both VUG and QQQ provide diversity and access to large-cap U.S. stocks, which may be advantageous for long-term investors seeking a balanced portfolio. Before investing in either of these funds, it is important to consider your investment goals and risk tolerance levels and research thoroughly; you may even need the help of an experienced financial advisor.
Conclusion:
Choosing the best ETF is a big decision and requires the investor to explore all their options. Ultimately, the choice depends on the trader's goals, investing timeframe, and risk tolerance degree. With VUG and QQQ offering different portfolios and risk levels, both are attractive investments depending on one's investment strategy. Consider your circumstances when deciding which ETF is right for you – there is no perfect answer or correct pick in every case! It's important to do your research to make an informed decision and get the most out of your money!
You may be interested in: