In this article, we will answer the question of what is a stablecoin and give information about its types.
What is a stablecoin?
A stablecoin is a type of cryptocurrency that aims to maintain a stable value by pegging its price to an underlying asset , such as a fiat currency like the US dollar or a commodity like gold . The purpose of stablecoins is to provide stability and reduce volatility in the crypto market , making them more suitable for everyday transactions and store of value .
There are four basic types . The first three models consist of those backed by fiat (fiat) currencies , commodities or other cryptocurrencies . The fourth option is decentralized ones, which use algorithms and smart contracts to automatically maintain their value .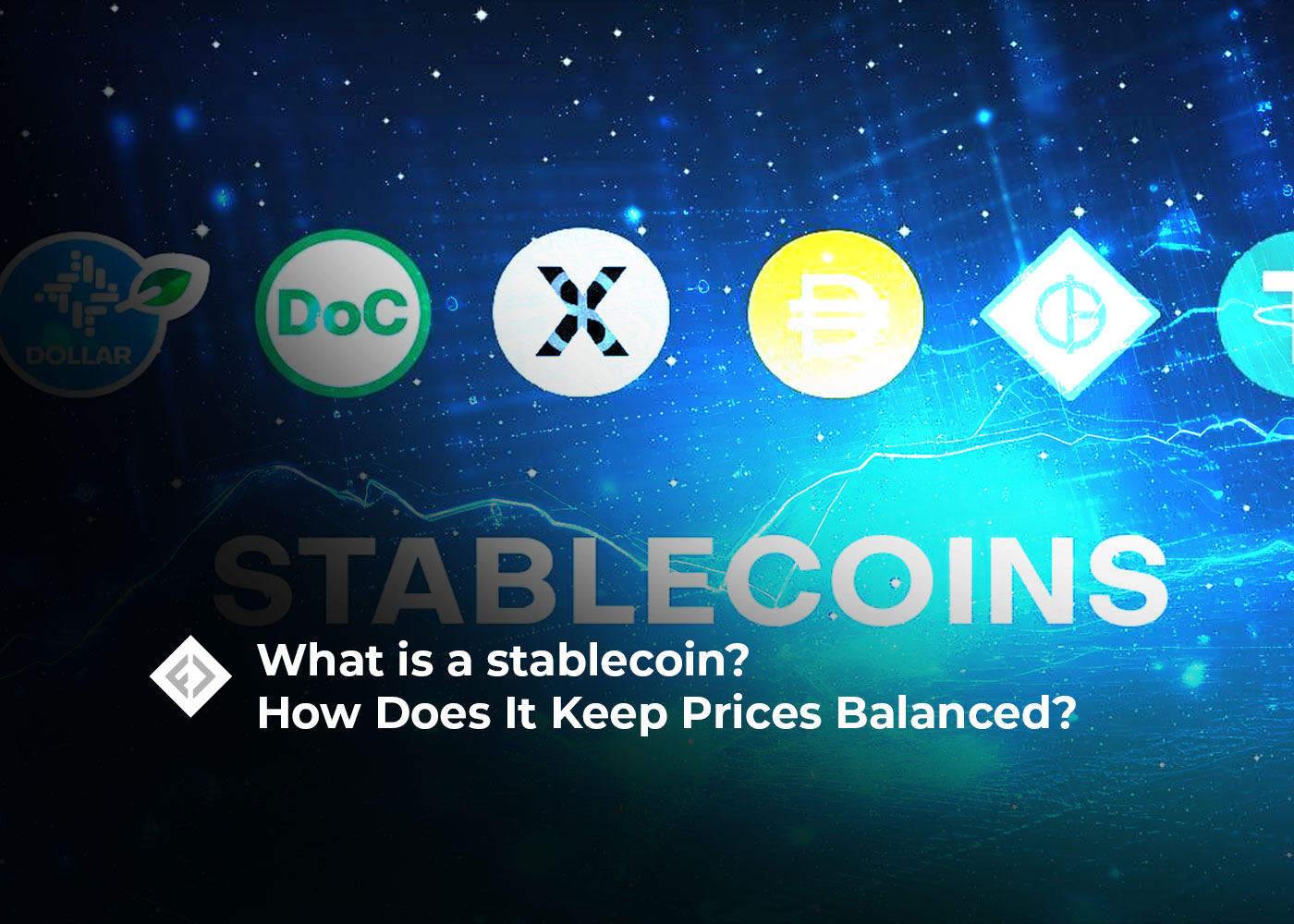 Are Stablecoins Risky?
Stablecoins are often viewed as having less risk than other cryptocurrencies because they strive to maintain a stable value. Nevertheless, like any financial tool, stablecoins still carry potential risks . These risks may encompass regulatory issues, counterparty risk when the underlying asset is held by a third party , and the chance of inadequate collateralization resulting in value loss . Conducting comprehensive research and comprehending the distinct characteristics and mechanisms of each stablecoin is crucial for users before getting involved with them .
In June 2019, Facebook generated controversy with the announcement of its stablecoin project called Libra. However , in response to the criticism and backlash , a decision was made to rebrand it as Diem . The main objective remained unchanged : to create a fiat-backed stablecoin that could be utilized by the vast user base of over 2.3 billion members on the social media platform for making payments .
Nevertheless , the project's rapid growth and increasing interest have raised concerns among regulators. Diem has been perceived as a potential threat to national sovereignty and global financial stability, leading to criticism from central banks, regulators , and international financial institutions . Numerous pessimistic scenarios and critical statements have emerged , even prompting discussions about scrapping the entire Project . Despite these challenges , however , the project continues its development .
Conversely , in January 2021, Brian Brooks – acting Comptroller of Currency in the United States – authorized banks to participate in stablecoin networks by operating nodes to facilitate payments. During this period, the European Union also worked on developing a more comprehensive regulatory framework for cryptocurrencies and stablecoins while publishing specific guidelines related to them .
What are the stablecoin types?
Various stablecoin types exist, each employing distinct mechanisms to ensure stability . Here are a few common categories :
Fiat-backed Stablecoins :

These stablecoins are supported by and pegged to reserves of fiat currency like the US dollar or Euro . Examples include Tether (USDT), USD Coin (USDC) , and TrueUSD (TUSD) .

Commodity-backed Stablecoin:

These stablecoins derive their value from underlying commodities such as gold or silver , often pegged to their respective market prices .

Cryptocurrency-collateralized Stablecoins :

These stablecoins utilize other cryptocurrencies as collateral for maintaining stability . An example is DAI , an Ethereum-based stablecoin backed by Ether (ETH ) .

Algorithmic Stablecoins :

Also known as seigniorage-style stablecoins, they do not rely on specific asset backing but instead employ algorithms to regulate supply and demand in order to stabilize their value .

Hybrid Stablecoin Models :

Certain stablecoin projects combine multiple mechanisms or assets to enhance stability and flexibility .
It's worth noting that each type of stablecoin has its own set of advantages, disadvantages , and risk profiles depending on its design and implementation approach.