This article will cover the special features of the YFDAI coin and provide a technical analysis of the currency on CoinMarketCap.com . Information will be provided on how and where you can buy YFDAI coins . Our technical analysis will be based on weekly candlestick charts. Investors will be able to use our weekly assessments where they will have the opportunity to manage their portfolios according to opportunities and risks .
What is YFDAI Coin?
YFDAI coin is an example of a cryptocurrency that operates within the YFDAI Finance ecosystem. YFDAI Finance functions as a decentralized finance (DeFi) platform that is constructed on the Ethereum blockchain. Acting as the native token for the YFDAI Finance platform, the YFDAI coin, which is also referred to as the YF-DAI token, holds significance.
      YFDAI strives to offer an array of DeFi services and products, encompassing yield farming, staking , lending, and decentralized exchanges. With a core focus on enhancing security , transparency and community governance within the DeFi domain, the platform provides opportunities for YFDAI coin holders to actively engage in governance by participating in decision-making processes and casting votes on proposals.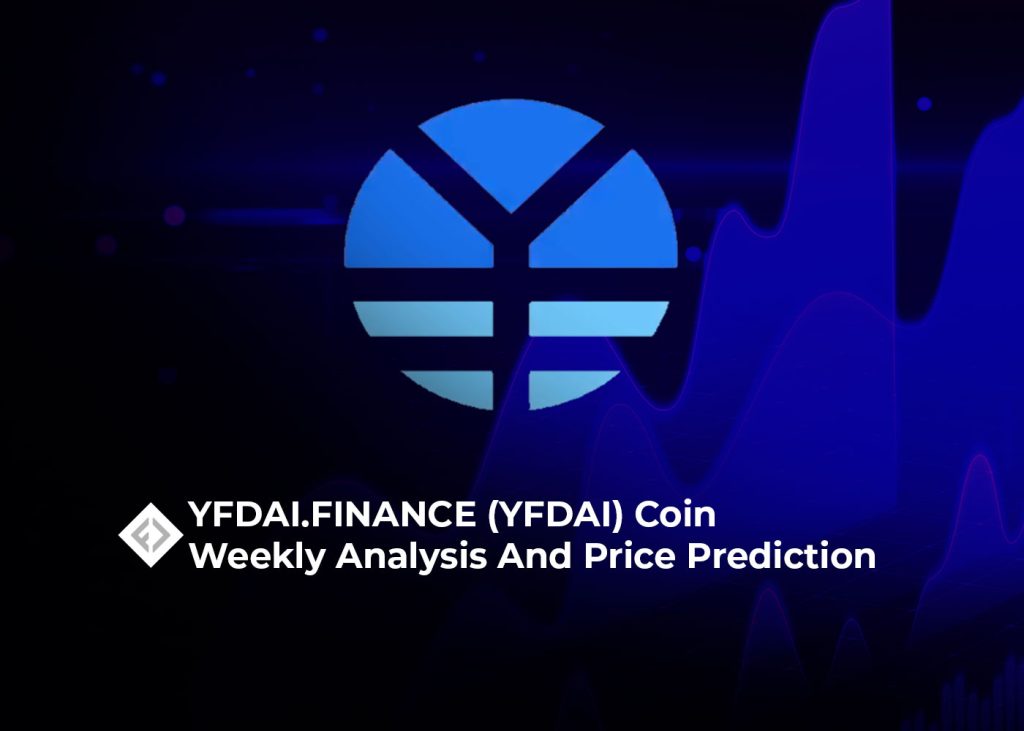 The YFDAI project places great importance on safeguarding users' funds and facilitating sustainable growth . This is achieved through the implementation of various security measures , including partnerships with auditing firms , insurance funds, and community-driven oversight .
When considering investments in YFDAI or any other cryptocurrency project, it is crucial to conduct comprehensive research and carefully evaluate the associated risks.
YFDAI coin how and where to buy
To buy YFDAI coins, you can follow these general steps :
Set up a Cryptocurrency Wallet : In order to acquire YFDAI coins, it is necessary to have a digital wallet that is compatible with Ethereum-based tokens, as YFDAI operates on the Ethereum blockchain . Well-known wallet choices consist of MetaMask, Trust Wallet, and MyEtherWallet . Establish an account and ensure the secure storage of your wallet's private keys .
Find a Cryptocurrency Exchange: When searching for a trustworthy cryptocurrency exchange that facilitates YFDAI coin trading , consider exchanges like Binance, KuCoin, and Uniswap, which are among the well-known platforms that might offer YFDAI. Proceed by opening an account on your selected exchange and fulfill any required verification procedures .
Deposit Funds : To add funds to your exchange account, you will usually need to deposit a form of cryptocurrency like Ethereum (ETH) or stablecoins such as Tether (USDT) or USD Coin (USDC) . It is important to carefully follow the Exchange 's instructions on depositing funds in order to complete the process successfully .
Place an Order: After successfully funding your account, locate the trading pair for YFDAI (e.g., YFDAI/ETH) on the exchange platform. Indicate the desired quantity of YFDAI you wish to buy and carefully review the order specifics, including the price and any associated fees . You will have the option to choose between market orders which are executed at the current market price, or limit orders , allowing you to set a preferred price for the purchase.
YFDAI Coin Technical Analysis
Starting from its peak value in March 2021 at $7879, a descending channel pattern emerged for YFDAI coin, extending until December 2022 . Following a breakout from the channel , YFDAI experienced a robust uptrend, climbing from $40 to $600. Currently , it maintains its movement along the support line, originating from the lowest level of $22. To ensure stability, it is crucial for YFDAI coin to hold above the critical support level of $0.107. Notably, the subsequent resistance levels to watch are $225, $390, and $591.
The following post does not provide any particular suggestions or investment advice. Prior to reaching a conclusion, readers should conduct their research, as every trading and investment decision carries inherent risks.