The increase in selling pressure on Bitcoin after the news from the SEC affected altcoins more than Bitcoin. Bitcoin, which closed the day at $21796 with a loss of over 5% yesterday, showed a domino effect for other altcoins, causing them to retreat very quickly. AVAX, which was traded at $20.11 at the opening yesterday, closed the day with a loss of 10.99% at $17.90, showing that the bears are still playing an active role.
Interpretation of AVAX Chart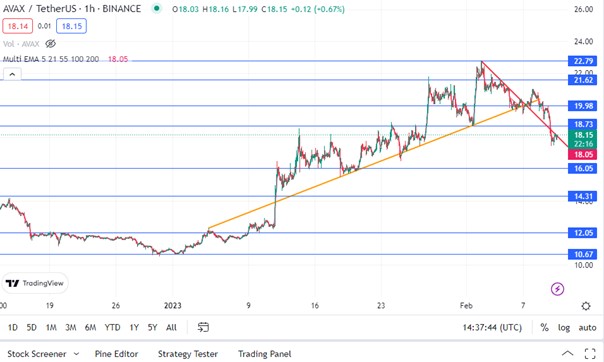 As can be seen from the chart, AVAX, which broke the rise that started from $ 12 to $ 20.40 and declined rapidly with the effects of selling pressure on the Bitcoin side, is currently trading at $ 18.15 with an increase of 1.40% at the time of writing. AVAX try to stay above EMA5 on a weekly basis, if the decline continues, we will see if the daily EMA55 (16.92) and EMA 100 (16.48) below will work as support, respectively, in the coming days. In the upward movement, EMA5 (19.04) and EMA 21 (18.99) dollars are seen as resistance.
The articles written here are not within the scope of investment consultancy. They are only the interpretation of the graphics. You should not forget that the crypto market is very active and dangerous, and you can make big losses.
You may be interested in: Analysts Say Cryptocurrency Markets Could Experience a Recession