While Bitcoin is still moving within the chart I have published for a few days, it is currently trading at $ 23364 with a 0.33% retracement in the markets.
Possible Scenarios in Bitcoin
As I mentioned in my previous articles, Bitcoin has been moving within the channel for a long time. In the first scenario in Bitcoin approaching the channel bottom, I expect it to react from the bottom of the channel and move towards the top of the channel, which is $ 24700, but it should be noted that if the channel is broken, there may be a sharp pullback and it can be pulled up to $ 22350.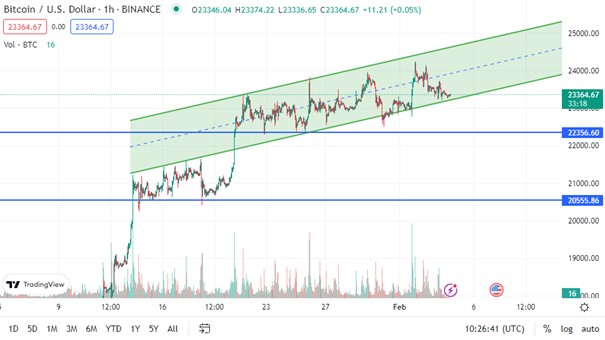 Latest Situation in Altcoins;
Ethereum b 0.11% down at $1661,

Solana was down 0.45% at $24.58,

Avax is down 0.41% at $21.24,

Ada fell 0.58% from $0.4140,

Ripple is trading at $0.4100, down 0.01%.
You may be interested in: Bitcoin Rises 40%: Is a Bull Rally Coming?