Crowdfunding has become increasingly popular in recent years as a powerful way to finance projects. Having the ability to raise funds for anything from creative endeavors to start-up businesses is invaluable, and it can be done relatively inexpensively with platforms that are accessible online. If you have an ambitious idea or project of your own but don't have access to traditional funding sources, starting your own crowdfunding platform may be the solution you need. In this blog post, we will provide essential tips and tricks on how to do just that in 2023.
What Is Crowdfunding?
Crowdfunding enables entrepreneurs and other creators to access a much larger pool of potential donors or investors through the Internet by bypassing costly traditional funding sources, such as banks and venture capitalists. This practice involves raising smaller amounts from an extensive group of people for any particular project or venture.
Crowdfunding platforms allow project creators to display their ideas and request investments from a far-reaching audience. Similarly, donors can contribute towards projects that align with their interests and be rewarded or provided other incentives in exchange for their generosity.
Owing to the emergence of social media, online communities, and crowdfunding platforms that offer a diverse range of resources for creators and backers, crowdfunding has gained tremendous traction in recent years. Through these new networks, people can interact with those with similar interests from around the globe. This makes initiating projects easier and garnering support for causes close to their hearts.
How to Start a Crowdfunding Platform?
Starting a crowdfunding platform can be a complex and challenging process, but here are some general steps you can follow:
Identify Your Niche:
To ensure the success of your crowdfunding platform, it is essential to focus on a specialized niche or subject. This will help you bring in an audience more appropriate for what you are offering and set yourself apart from any competitors that might be around. When making this decision, think deeply about how large the market is, who else could be competing with you, and if there's room for innovation within this area.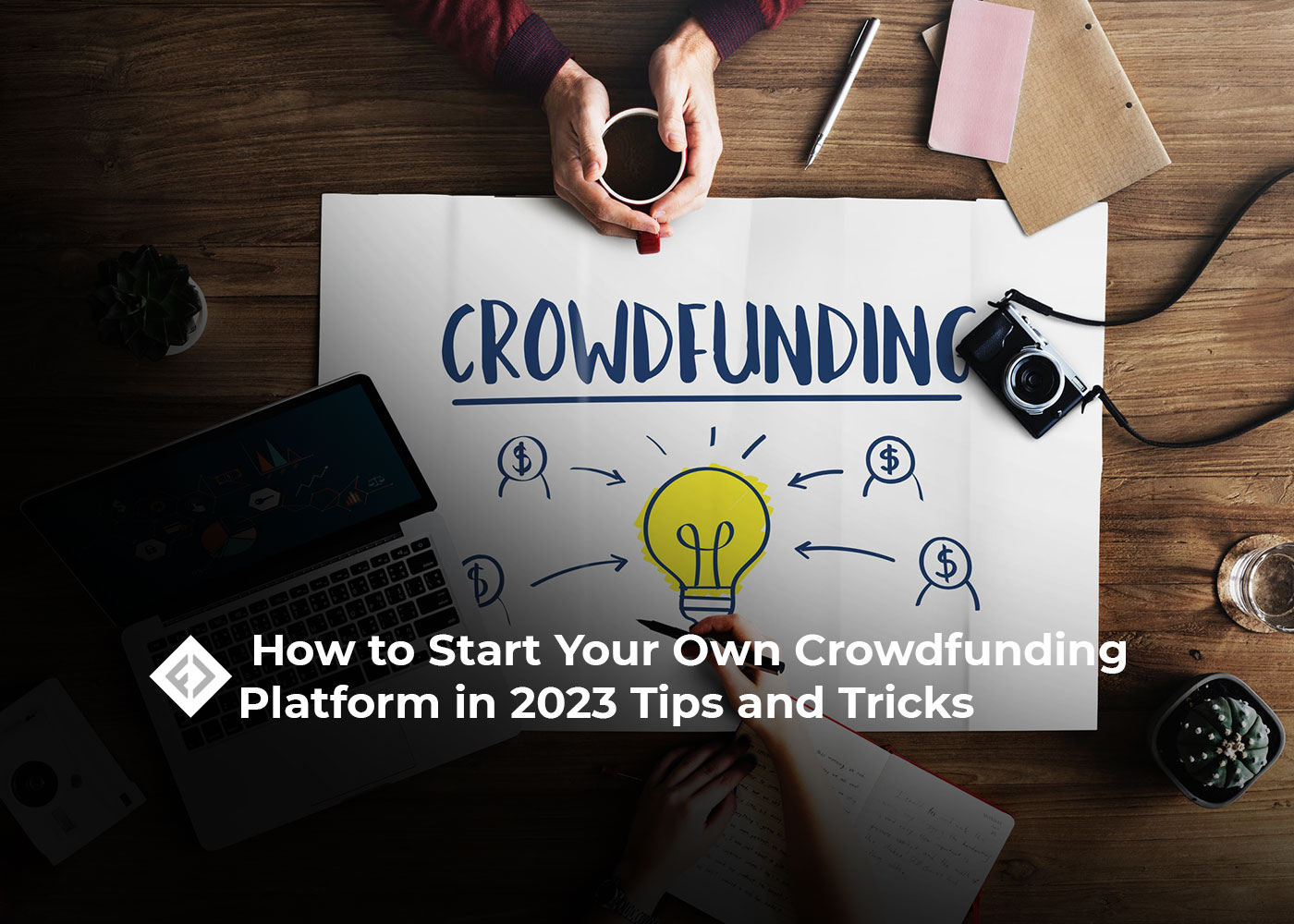 Conduct Market Research:
Prior to launching your platform, you must engage in comprehensive market research to comprehend who are your target customers and what competitors you have. This may include studying user data from current crowdfunding platforms, administering surveys or focus groups, and exploring industry trends and best practices.
Establish a Legal Entity:
Depending on your situation and the type of business you're running, forming a legal entity such as an LLC or corporation is essential for protecting yourself from liabilities while ensuring compliance with prevailing laws. To make sure that you are doing it correctly, seek professional advice from either a lawyer or an accountant who knows their stuff.
Choose a Technology Stack:
Choosing the appropriate technology stack for your business is both important and budget-dependent. When making this critical decision, it's essential to weigh factors including scalability, security, and user experience – all of which will determine how successful your platform will be in delivering a positive outcome.
Build the Platform:
Crafting a platform that's user-friendly, secure, and capable of processing payments is no small task. It makes sense to assemble a team of experienced developers and designers who can bring your vision for the platform to life. By leveraging their skill sets, you'll make sure that the development process runs smoothly from start to finish!
Fund the Platform:
Financing a crowdfunding platform is not inexpensive, which is why securing monetary backing can be beneficial. This may mean seeking out venture capitalists, angel investors, or any other possible sources of capital. Investing in a project like this has the potential for lucrative returns; securing the right funding will help get your business off the ground and on its way to success!
Set up Fees and Charges:
Ultimately, your platform's fees will depend on many aspects, such as the chosen crowdfunding model, project size/complexity, and level of service toward users. To ensure that you are competitively priced with an attractive offer to potential customers, it is recommended to research industry standards and evaluate user feedback carefully. With this data, you can craft an effective pricing strategy for your products or services.
Develop a Marketing Plan:
Crafting a strategic marketing plan is key to captivating potential users and raising your platform's visibility. Think about leveraging social media, email campaigns, and content strategy – along with other channels – as powerful tools for promoting your platform and interacting with those you wish to reach.
Recruit and Manage a Team:
When constructing and expanding a crowdfunding platform, it is essential to recruit an enthusiastic team of experts in the areas of programming, artistry, promotion, and customer service. Assemble individuals that are devoted to your mission and create plans for motivating them. Doing so will ensure that your project is successful!
Monitor and Improve:
Lastly, it is fundamental to remain vigilant with your platform's performance and user response by continuously surveying users, studying data on their conduct and commitment, and deploying fresh abilities or functions for a better experience to foster growth.
Final Words:
Starting up a crowdfunding platform isn't easy and requires planning, hard work, and dedication. Knowing the benefits and costs of setting up one's crowdfunding platform is essential before taking on such an ambitious endeavor. With that in mind, following the tips in this blog post will help you better understand how to start creating your own crowdfunding platform. Make sure to do your research about what kind of platform works best for you, read up on available platforms that are already established, and draw on your creativity to make your project stand out from the rest. With these tips and tricks in mind, you can take yourself one step closer to creating a successful crowdfunding platform in 2023.
You may be interested in: