Jewelry has always been a symbol of wealth and social status throughout history . From the diamond tiaras of kings and queens to the ornate amulets and gold bracelets buried with Egyptian pharaohs it's clear that jewelry has captivated people's fascination for centuries.
Understanding Jewelry Investing
So what exactly is jewelry investing all about and is jewelry a good investment ? Well think of it more like investing in collectibles such as valuable artwork rather than a typical commodity like platinum . Unlike stocks that fluctuate with the market fine jewelry pieces are seen as alternative assets that can preserve and even grow your wealth over time.
The Illiquidity of Jewelry Investments
However it's important to note that jewelry is not the most liquid investment . If you decide to sell your jewelry it can be a slow and challenging process to find the right buyer . Moreover investing in jewelry requires a certain level of expertise . You need to be able to identify high quality pieces that are worth investing in whether it's a rare vintage ring , a fancy colored diamond or a natural saltwater pearl.
Sourcing and Authenticating Jewelry
When it comes to sourcing jewelry for investment it's crucial to buy from reputable jewelers . Make sure you do your due diligence and consider getting a third party appraisal to ensure the pieces you're purchasing meet the standards of investment quality . Building connections within the industry can also be helpful especially if you have your heart set on a specific designer or period like a gold necklace from a particular era.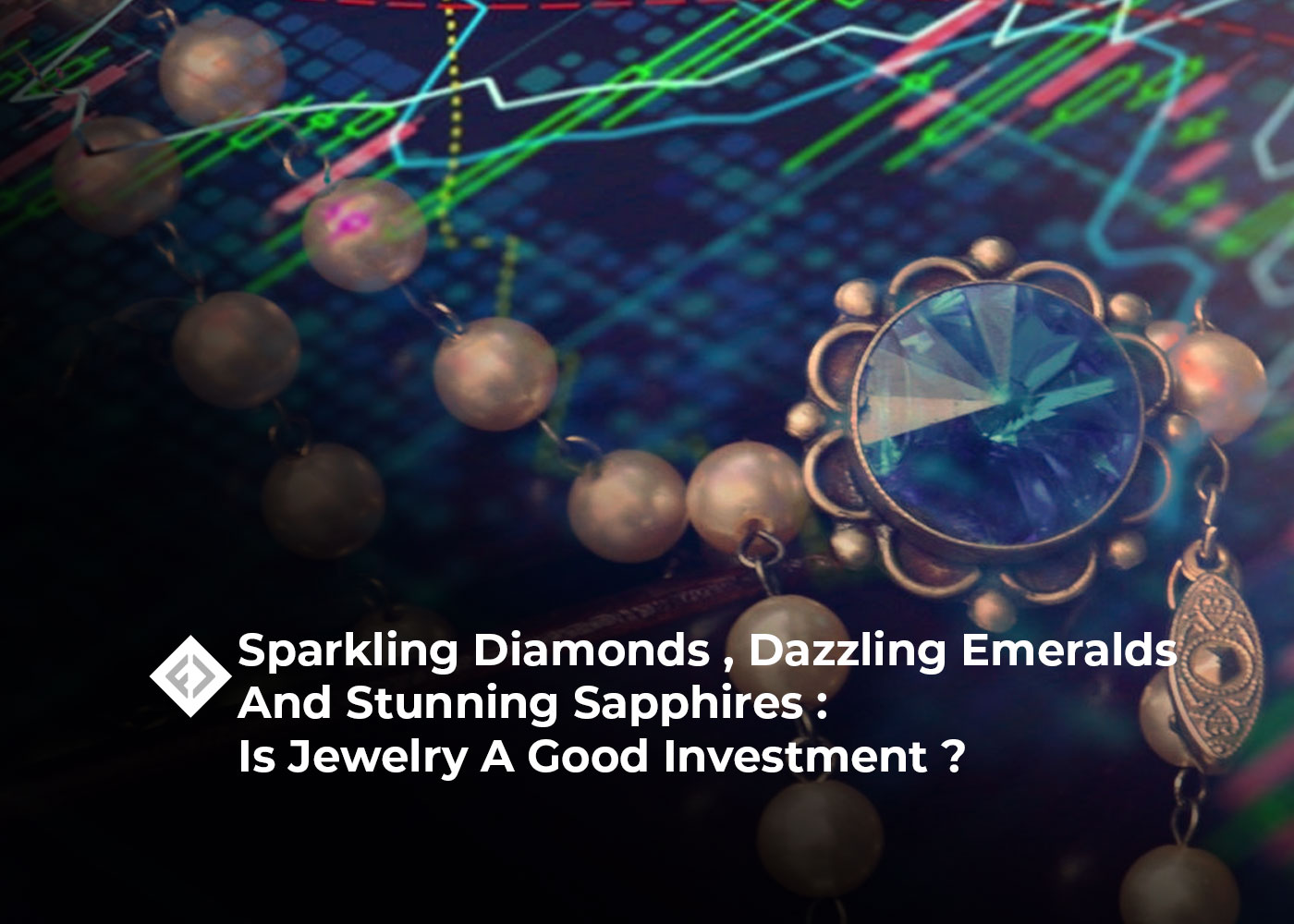 Storage and Insurance Considerations
Now let's talk about storage and insurance . While you can keep your jewelry in a regular jewelry box or even wear it it's highly recommended to secure your investment in a safe or a bank safety deposit box . This minimizes the risk of loss or theft.
While most insurance policies cover theft and damage finding a policy that specifically protects your jewelry portfolio as an investment can be more challenging . It's important to consider the cost of insurance and weigh it against your projected future returns to determine if it's a worthwhile expense.
What to Look for When Investing in Jewelry
So what should you look for when investing in jewelry ? Well don't rush to your nearest Tiffany & Co . just yet . Investing in fine jewelry requires knowledge and research . You can educate yourself about the jewelry market by reading books , visiting museums , seeking advice from industry experts or attending previews at auction houses . Many collectors focus on specific designers or periods such as the art deco era.
When buying a new piece of jewelry consider its age , quality , condition and whether it bears the manufacturer's signature . Gemstones should come with recent certifications from independent labs to ensure their authenticity . Here are a few additional factors to consider when expanding your jewelry collection :
The Role of Rarity in Jewelry Value
Rarity plays a significant role in the value of a piece . The rarer it is the more likely it is to appreciate over time . Vintage jewelry especially rare vintage rings can be highly sought after . Keep in mind that different jewelry houses have changed ownership over the years and the designs and craftsmanship may vary accordingly . For instance , the quality of Tiffany & Co . pieces was a subject of customer complaints after it was sold to cosmetics company Avon in 1978.
Exploring Different Types of Precious Stones
The type of stone is another crucial aspect . While diamonds are often considered a good investment don't overlook the potential of emeralds , rubies and sapphires . Natural saltwater pearls can also command high prices depending on the piece . Ideally untreated stones are more desirable but even pieces from reputable manufacturers may have undergone slight treatments to enhance their appearance.
The Importance of Design and Designer Names
Design is another important factor to consider . The designer behind a piece can greatly influence its value and desirability . Auction houses often feature designs from renowned names like Bulgari , Cartier and Van Cleef & Arpels . Each designer may have distinct periods that collectors seek . For example collectors highly covet Bulgari's La Dolce Vita pieces from the 1960s while Cartier's art deco designs from the 1920s and 1930s are particularly renowned . A Cartier Tutti Frutti bracelet inspired by Jacques Cartier's travels to India sold for $1.3 million in 2020 highlighting the appeal of specific designs.
Is Jewelry a Good Investment?
Now let's address the big question : Is jewelry a good investment ? Well diamonds have often been touted as a girl's best friend for a reason . High quality jewelry from top end designers tends to retain its value and may even appreciate over time.
Take for example the Oppenheimer Blue diamond . It became the most expensive jewel ever sold at auction fetching a staggering $50.6 million at Christie's in 2016 (although it was later surpassed by the Pink Star diamond sold for $71 million at Sotheby's in 2017) . Just recently a blue diamond sold for over $57 million at a Sotheby's auction in April . Even smaller less famous pieces can still command substantial prices such as a dark grey blue diamond that sold for $6.8 million in 2018.
Other gemstones like Kashmir sapphires are equally coveted by collectors . In fact a 35.09 carat Kashmir sapphire ring set a record when it sold for an impressive $7.3 million at Christie's in 2020 . Furthermore various types of jewelry such as Cartier bracelets or diamond rings can fetch thousands or even millions of dollars at auction.
However it's crucial to remember that the market for jewelry is subject to the preferences of collectors and trends in fashion and investing . A piece that commands a high price today may lose its appeal in the future . Like any investment there are risks involved in jewelry investing . Nevertheless unlike stocks a well chosen piece of jewelry can be worn and cherished as a family heirloom for years even if its monetary value fluctuates.
Conclusion
So if you're considering investing in jewelry make sure to do your research , seek expert advice and carefully select pieces that align with your personal preferences and long term investment goals . While there are potential financial rewards to be reaped the beauty and sentimental value of jewelry are timeless.
You may be interested in:
Sparkling Diamonds , Dazzling Emeralds And Stunning Sapphires : Is Jewelry A Good Investment ?
Why You Should Become an Affiliate with Caged Beasts Coin: Three Benefits to Consider
Exploring the Tax Benefits of Annuities in Your 2023 Tax Strategy