Are you looking to create Non-Fungible Token (NFT) clothing and other fashion products? With the increasing popularity of blockchain technology, many have turned their attention to creating valuable digital assets through NFTs. By utilizing distributed ledgers and smart contracts, NFTs offer a revolutionary way for creators to explore digital possibilities while maintaining asset ownership in unconventional ways. For those interested in embracing this new technology and exploring its incredible potential, here's a guide to creating unique NFT clothing items.
What Is NFT?
NFT stands for "Non-Fungible Token." It is a unique digital asset stored on a blockchain, a distributed digital ledger that records transactions. Unlike fungible tokens like Bitcoin and other cryptocurrencies, each NFT is unique and cannot be duplicated one-for-one or exchanged for another NFT. NFTs can represent digital assets such as art, music, videos, tweets, and virtual real estate. Creators can monetize their digital works by selling them as unique digital assets to collectors and enthusiasts. NFTs have grown in popularity as a new way for artists and creators to showcase their work and generate revenue from the digital economy.
What Is an NFT In Fashion?
NFTs in fashion are digital representations of clothing and accessories that can be bought, owned, and traded as their unique assets on the blockchain. These digital fashion assets include 3D models, high-resolution images, and video files. NFT-Fashion allows creators to present digital fashion designs in virtual environments such as social media, gaming platforms, and virtual reality experiences. Fashion brands and designers can use NFTs to promote digital fashion creations and generate revenue by selling them on blockchain marketplaces. Additionally, NFT Fashion offers collectors and enthusiasts a new way to own and display fashion collections, including unique digital fashion pieces from their favorite designers. NFT fashion is still a new field, but it has the potential to create new opportunities for designers, brands, and consumers in the digital fashion space.
How To Create NFT Clothing?
NFT (Non-Fungible Token) clothing production involves a combination of two worlds:
Fashion and blockchain technology. The general steps for creating NFT clothing are as follows:
Design clothes: Create your designs or work with fashion designers to create unique digital fashion creations that can be converted into NFTs.
Digitize your clothes: Once you have your design, you need to digitize it. To do this, use 3D modeling software or create a high-resolution digital image of your design.
Form the NFT: You need to use a blockchain platform that can create NFTs. B. Ethereum or Binance Smart Chain. You need to create a smart contract, a set of rules that define NFT ownership and transferability.
Sell your NFT: Once you've created your NFT, you can list it on the marketplace or sell it directly to buyers. You can set the price of your NFTs or put them up for auction to the highest bidder.
Transfer of ownership: When someone buys your girlfriend's NFT, ownership of the digital clothing is transferred to that person. Display it in your digital wardrobe or virtual environments such as games and social media.
It is important to note that NFT clothing is still a relatively new concept, and there are many opportunities for development and exploration in this area.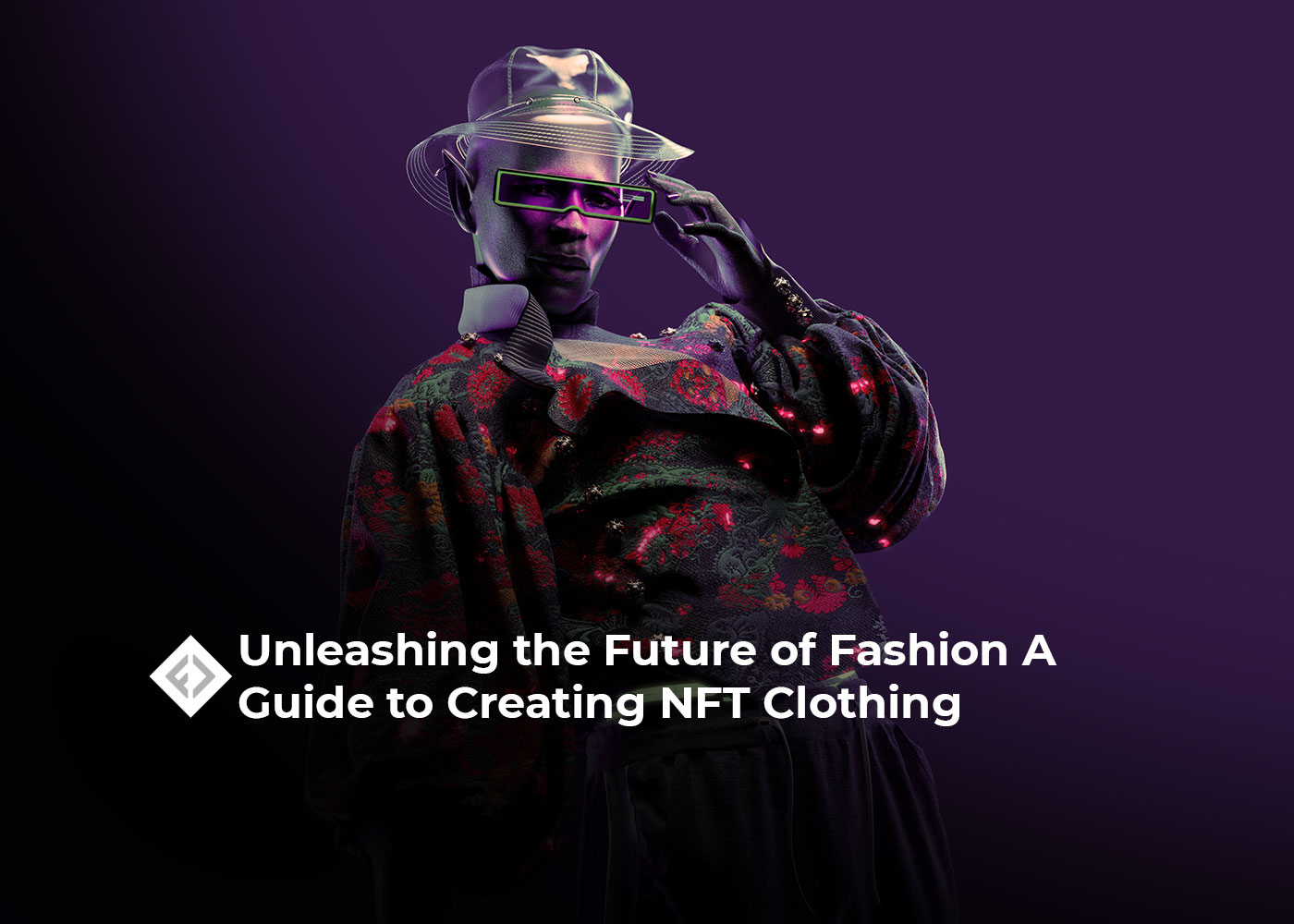 How Fashion Businesses Are Capitalizing On the NFT Trend?
Fashion companies are benefiting from the NFT (non-fungible token) trend in some ways, including:
Create a digital fashion collection
Fashion brands and designers create digital fashion collections that can be converted into NFTs and sold as digital assets. These digital collections allow designers to showcase their creativity and innovation in the digital space and offer collectors new ways to experience and own fashion.
Collaboration with digital artists
The fashion brand collaborates with a digital artist to create her unique NFT that combines fashion and digital art. These collaborations can attract a new audience of collectors and enthusiasts who appreciate style and skill.
NFT Auction Hosting
Fashion brands host NFT auctions to sell digital fashion pieces and collections to the highest bidder. These auctions can generate buzz, media attention for the brand, and revenue from the sale of the NFTs.
Creating virtual fashion experiences
Fashion brands create virtual fashion shows and experiences showcasing their digital fashion collections and NFTs. These experiences allow consumers to interact with the brand and its products in a new and engaging way, which can help to build brand loyalty and awareness.
Offering NFT-based rewards
Fashion brands offer NFT-based rewards to customers who purchase their products or participate in loyalty programs. These rewards can include exclusive digital fashion pieces or access to virtual fashion experiences.
Overall, the NFT trend offers fashion businesses new opportunities to innovate and connect with consumers in the digital space. By leveraging the unique properties of NFTs, fashion brands can create new revenue streams, attract new audiences, and offer consumers a new way to experience and own fashion.
To Sum Up
Creating NFT clothing can be simple and manageable. As long as you research, get creative, and understand the technology behind it, the process can be pretty fun and exciting! Not only that, but it's an excellent way to put yourself on the cutting edge of art-tech integration and become a trendsetter for others in the growing field. Finally, despite the many challenges associated with creating and selling NFT clothes, it could prove to be a successful business venture and provide you with a steady source of revenue. When partnering with a trusted platform like OpenSea, you'll find that selling NFT clothes is worthwhile for yourself and those who want to support your art. So take the plunge and create something unique that will stand the test of time!
You may be interested in: