This article will analyze the XDC coin according to coinmarketcap data. First, we will discuss the XDC coin and its projects and make technical and graphic analyses. The analysis we will do in the weekly period will help the investors to take risks and manage their portfolios.
What is XDC Coin?
XDC coin is the native cryptocurrency of the XinFin network, which is a hybrid blockchain platform that combines the features of both public and private blockchains. The XDC coin is a utility coin to facilitate transactions on the XinFin network, such as cross-border payments, trade finance, supply chain management, and other use cases.
What are the projects of XDC?
XinFin has several projects that utilize XDC coin, including:
TradeFinex: a decentralized trade finance platform that enables stakeholders in trade finance to connect and transact securely and transparently.
MyContract: a platform for creating, signing, and managing smart contracts.
Blockdegree: an online learning platform that offers blockchain-based certification courses.
XDC Wallet: a digital wallet for storing and managing XDC coins.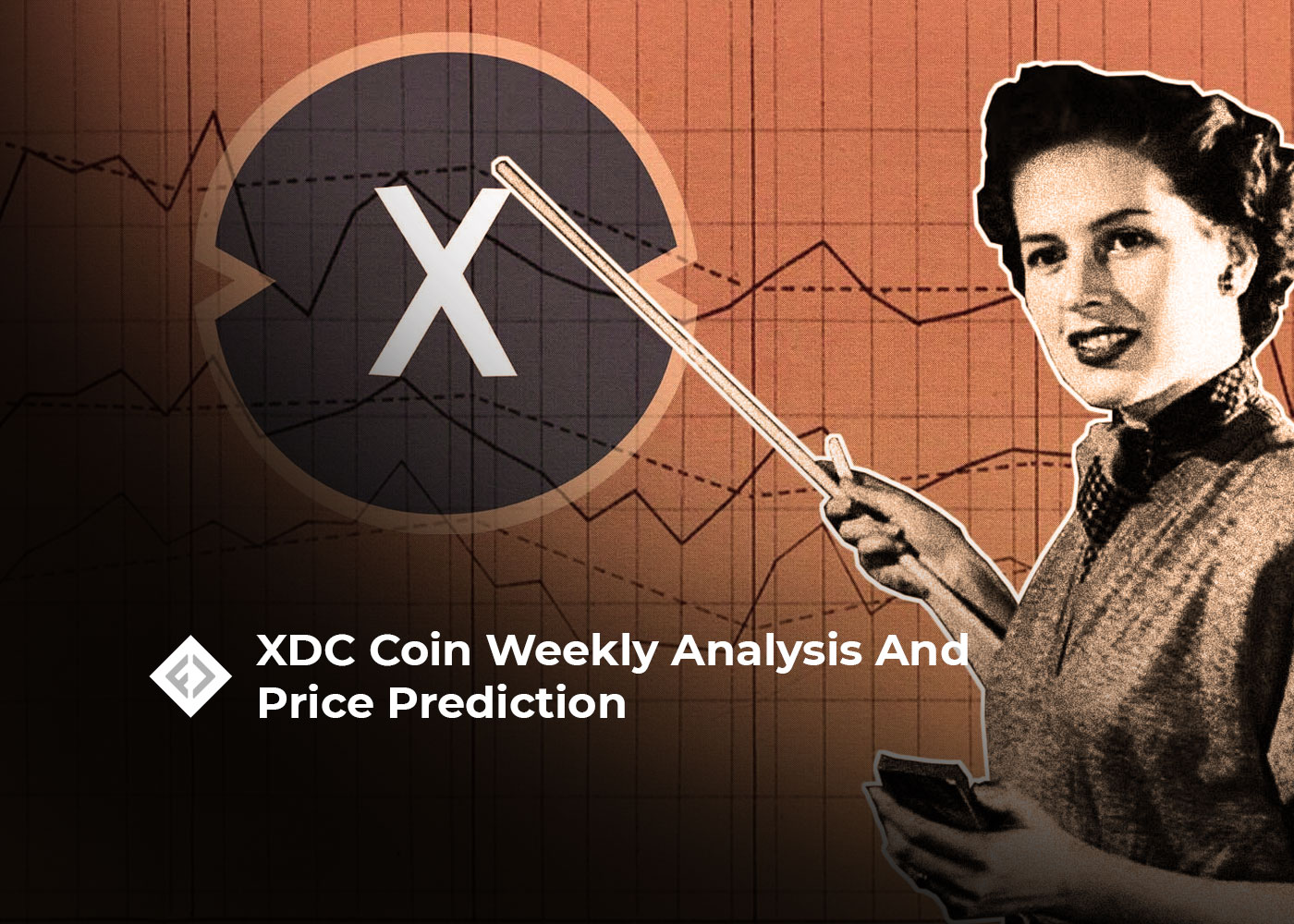 Factors Influencing XDC Price
There are several factors that can influence the price of XDC coin, including:
Market demand: The demand for XDC coin is a significant factor that affects its price. If there is a high demand for XDC coins, their price will likely increase.
Supply of XDC coin: The supply of XDC coin in the market also plays a crucial role in determining its price. If more XDC coins are available in the market, the price may decrease.
Competition: XinFin competes with other blockchain platforms that offer similar services, such as Ethereum and Hyperledger. The market competition level can affect the demand for XDC coins and, consequently, their price.
Adoption: The adoption of XinFin's platform and XDC coin by businesses and institutions can increase the demand for the cryptocurrency, thereby driving up its price.
Regulatory environment: Regulatory developments, such as government bans or restrictions on cryptocurrencies, can negatively impact the price of XDC coins and other cryptocurrencies.
XDC COİN TECHNICAL ANALYSIS
After seeing its highest value of $0.1094 at the end of 2021, XDC, which entered a downtrend, fell by 80% to $ 0.02. Everything looks good now at XDC, which broke the downward trend at the beginning of 2023. XDC is currently trading at $0.0403. According to coinmarketcap data, XDC, which has a size of $562,162,848, has had a volume of $4,484,742 in the last twenty-four hours.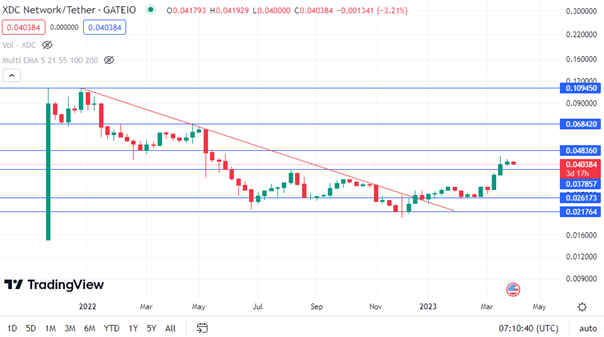 XDC Chart Analysis
After hitting the top value of $0.1094, XDC fell by 80% in a year, falling to $0.02. Things are going well at XDC, which broke the falling trend at the beginning of 2023. When we examine the chart weekly, the upward target is $0.0483 unless it closes below the $0.0378 support. For possible pullbacks, if it closes below $0.0378, our support zone is $0.0261.
This article does not contain investment advice or recommendations. Every investment and trading move involves risk, and readers should conduct their research when deciding. This article does not include investment advice or suggestions. Every investment and trading move involves risk, and readers should perform their analysis when determining.
You may be interested in: