Investing in cryptocurrencies can be a profitable method to expand your portfolio, but the secret to long-term success is understanding how to recognize profits and reinvest them intelligently. Maximizing your earnings in the unpredictable world of cryptocurrencies requires reinvesting your winnings. By doing this, you can compound your profits and possibly see long-term growth in the value of your investment.
It can be difficult to comprehend the optimal reinvestment tactics for newbies to the crypto world. In this article, we'll look at some essential advice and tactics for taking cryptocurrency earnings and reinvesting them to expand your portfolio. Everything you need to know to become a savvy crypto reinvestor will be covered in this post, from defining investment goals to diversifying your holdings.
The Benefits of Reinvesting Crypto Profits
Reinvesting your cryptocurrency income provides several advantages that can aid in your long-term success as an investor in cryptocurrencies.
First off, compounding your gains is made possible by reinvesting your profits. In other words, you're reinvesting your profits so they can generate even more income for you. This compounding impact can substantially raise the overall value of your investment over time.
Second, diversifying your portfolio can be achieved by reinvesting your profits. You can diversify your risk by using winnings from one cryptocurrency and reinvesting them in another. This can lessen the chance of significant losses and protect your portfolio from market volatility.
Thirdly, keeping ahead of inflation can be accomplished by reinvesting your profits. Over time, inflation may reduce your investment's value, but by reinvesting gains, you may be able to generate returns that beat inflation.
Last but not least, reinvested profits can assist you in realizing your investment objectives. You may stay focused on your long-term objectives and make more informed investment decisions by creating concrete investment goals and reinvesting your profits to attain them.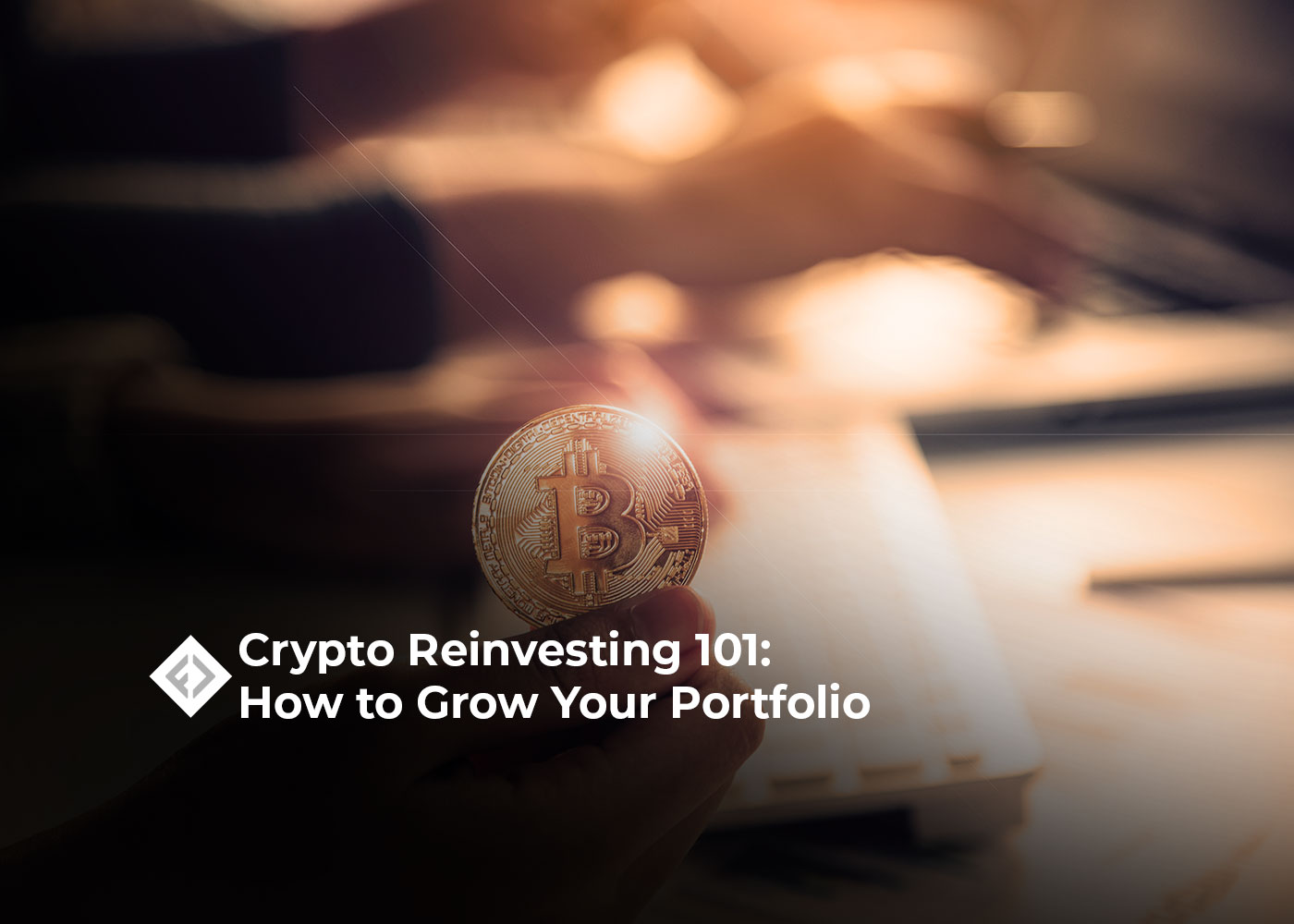 Identifying High-Potential Cryptocurrencies:
Although it may be difficult to provide specific guidance, it is crucial to perform careful research and due diligence before investing in any cryptocurrency. We can, however, offer the following general advice on how to spot high-potential cryptocurrencies:
Seek out cutting-edge technology

: Cryptocurrencies with distinctive and cutting-edge technology have a greater chance of success than those without. For instance, cryptocurrencies with increased privacy capabilities, fewer transaction costs, or faster transaction rates may have better growth potential.

Verify the development team and project roadmap

: Examine the project's roadmap and the development team to determine its growth potential. Choose a team with a proven track record in the field and a well-defined project development strategy.

Consider the market capitalization and trading volume

: These two metrics tend to reflect investor confidence in a particular cryptocurrency.

Verify the collaborations on the project:

Partnerships with well-known businesses or organizations can give a project credibility and possibly boost acceptance and demand.

Stay Updated:

Keep up with the most recent news and social media attitudes about a cryptocurrency by keeping an eye on the two. While negative news and sentiment may point to potential risks or difficulties, positive news and sentiment can point to opportunities for growth.
Remember that cryptocurrency investing is quite hazardous and volatile, so you should conduct your own research and get professional financial advice before making any decisions.
Strategies for Reinvesting Crypto Profits:
Knowing where and when to invest is critical when making successful investments, and reinvesting is no different.  Here, we will give you some popular strategies that can make reinvesting your crypto profits easier.
Dollar-cost Averaging

: Regardless of market conditions, this method entails investing a certain sum of money regularly. By doing this, you can potentially profit from market falls and lower the danger of making a sizable investment at a terrible time.

Rebalancing

: Rebalancing entails changing the asset allocation in your portfolio to maintain your intended level of risk and return. You can keep your portfolio diverse and aligned with your investment objectives by removing profits from assets that outperform the market and reinvesting them in underperforming assets.

"Buy-and-Hold" Strategy

: Buying a cryptocurrency and keeping onto it for a long time, despite brief market changes, is known as the "buy-and-hold" strategy. By doing this, you may be able to take advantage of a cryptocurrency's potential for long-term growth.

Staking or Lending

: A lot of cryptocurrencies have staking or lending alternatives that let investors get paid for keeping the asset in the form of interest or prizes. You can multiply your earnings and even raise the overall worth of your investment by reinvesting these benefits.

Find New Projects to Invest

: Investing in new initiatives can be a high risk-high reward approach because they can potentially upset established markets. You can potentially get big returns by completing in-depth research and investing in cutting-edge ventures with solid fundamentals.
Before investing in any strategy or asset, keep in mind that it's critical to conduct your own research and seek professional financial advice.
Tips for Successful Crypto Reinvesting:
Of course, there are several tips that we gathered from expert investors. They might work not only in your crypto reinvestments but also in your non-crypto investments. 
Set Realistic Goals

: Before reinvesting your gains, it's critical to establish certain investment goals. Decide on the amount, the expected return on investment, and the time frame for your investment. You may maintain focus and make better investment decisions by having clear goals in mind.

Diversify your holdings

: In the world of cryptocurrencies, diversification is essential for minimizing risk and boosting rewards. Instead of putting all your eggs in one basket, diversify your investments over several assets. This can lessen the chance of big losses and protect your portfolio from market volatility.

Keep Updated on Market News

: Knowledgeable investment decisions can be made by keeping abreast of market news and trends. Follow reliable news outlets, keep an eye on social media sentiment, and track any changes in the law that might impact the cryptocurrency market.

Use Technical Analysis

: To spot trends and forecast future market movements, technical analysis entails examining historical market data. Making better investment selections can be aided by using this to determine entry and exit locations.

Control Yourself

: Keeping emotions in check is crucial because investing in cryptocurrencies may be extremely volatile. Maintain your investing plan and refrain from acting rashly out of fear or greed.
Remember that investing in cryptocurrencies carries a significant level of risk and volatility, so you should conduct your own research and consult a financial expert before making any decisions.
Final Words
In summary, reinvesting your profits in cryptocurrencies might be smart for diversifying your holdings and potentially generating high returns. You can improve your chances of success in the crypto market by adhering to solid investment concepts, including diversification, research, and establishing specific investment goals.
But it's important to remember that investing in cryptocurrencies is extremely risky and volatile, so before making any investment decisions, you should conduct your own research and consult a financial expert. You may be able to meet your financial objectives and maximize your profits in this fascinating and quickly changing market by adopting a methodical, well-informed approach to cryptocurrency reinvestment.
You may be interested in: