Crypto currency has taken the world by surprise with its market capitalization and surpassing $1.6 trillion . It's an exciting and sometimes very much unpredictable new space but staying updated on the latest trends is actually really essential in this new world . In this article we will explore the hottest newest trends in crypto currency technology and what they mean for the future of finance . From institutions jumping on the crypto bandwagon to the rise of DeFi , the fascination with NFTs and the growing focus on climate impact there's plenty to keep an eye on in this rapidly evolving landscape.
Institutional Adoption of Crypto currency Ecosystem :
Picture this : big corporations and financial institutions once skeptical of crypto currencies are now diving head first into the market . They're allocating massive amounts of capital to digital assets signaling a major shift . In fact billions of institutional assets were poured into the crypto market in 2020 alone with expectations of even more to come . The money management industry is catching on and it's an exciting trend to watch.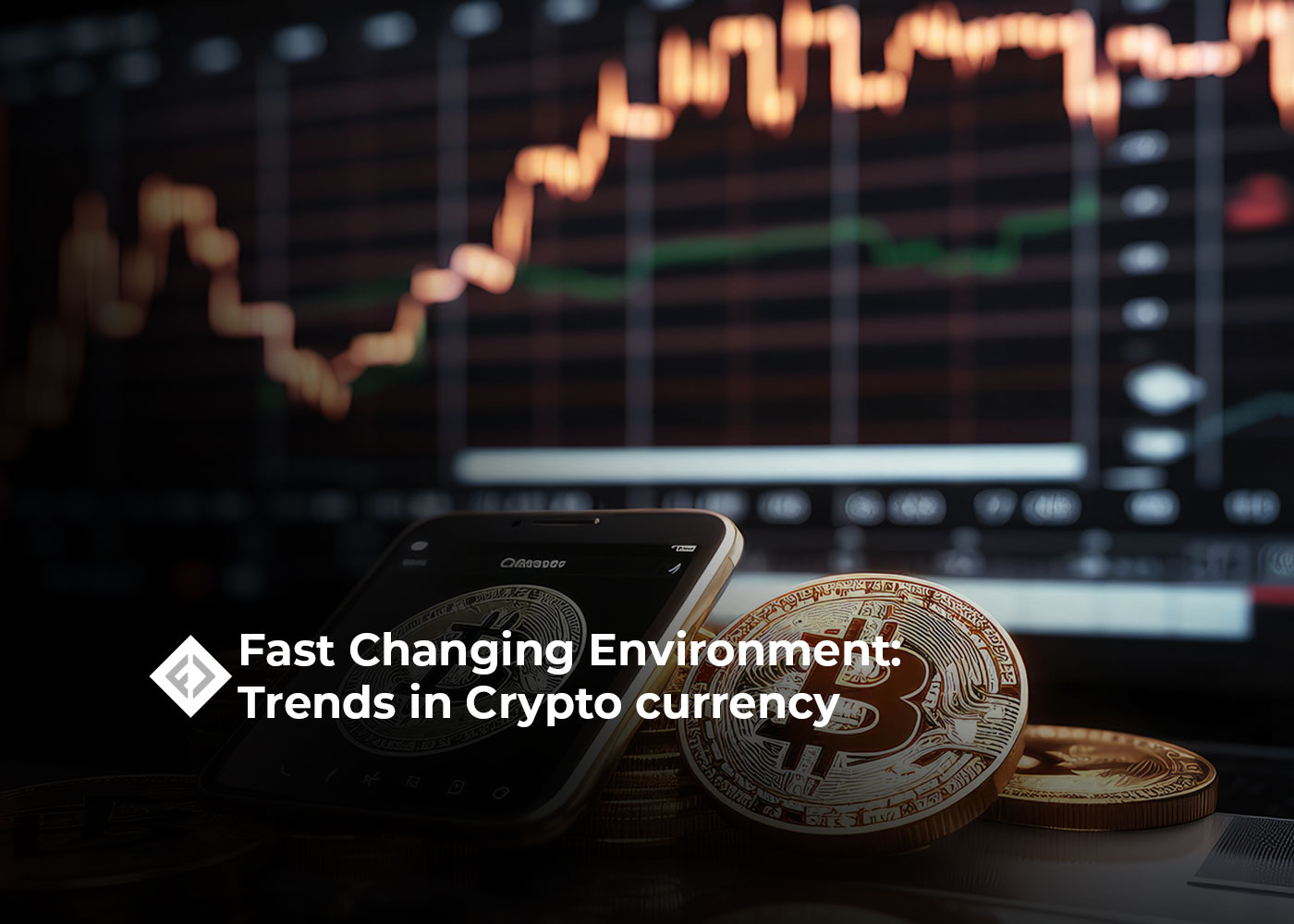 The DeFi Frenzy :
Decentralized Finance or DeFi for short is creating quite a buzz in the crypto currency world . It's all about executing traditional financial transactions on the blockchain using smart contracts . Imagine the possibilities . The interest in DeFi has skyrocketed since 2017 and the Total Value Locked (TVL) in DeFi smart contracts has been climbing like crazy . From yield farming to maximizing returns people are finding innovative ways to make the most of DeFi . It's a trend that's capturing attention and transforming the financial landscape.
The NFT Craze :
Here's where things get really interesting . NFTs have swept the crypto market by its feet . These unique tokens represent both physical and digital assets on the blockchain and they're shaking up the industries like art , gaming and even fashion . Think of it as owning a piece of digital history that can't be ever replicated . The NFT market saw explosive growth in 2021 with jaw dropping sales and an ever expanding market capitalization . From digital artwork to limited edition fashion items NFTs are revolutionizing how we buy , trade and sell . It's a trend that's capturing the imagination of artists , collectors and enthusiasts all alike.
The Growing Call for Regulation :
With the crypto currency market gaining a really big mainstream attention it's no surprise to anyone that regulators are stepping in this . Governments worldwide are taking really big measures to address concerns related to criminal activities and investor protection . While the crypto market was once the Wild West of finance that's starting to change . Stricter regulations are being proposed and discussions around central bank digital currencies (CBDCs) are heating up . The goal is to create a safer more secure environment for users and investors . While some may view regulations as a hindrance they could also provide stability and foster wider adoption of crypto currencies.
Conclusion :
The world of crypto currency is a thrilling ride filled with incredible opportunities and occasional bumps in the road . By keeping an eye on the latest trends in crypto currency investors and enthusiasts can navigate this ever changing landscape with confidence . From institutional adoption to DeFi and NFTs these trends shape the future of crypto currencies . As the industry matures regulation will likely play a more prominent role ensuring a safer and more sustainable environment for all . So buckle up , stay informed and get ready to embrace the exciting developments in the world of crypto currencies .
You may be interested in:
Brazilian Chamber of Deputies to Crack Down on Cryptocurrency Scams
Controversy Surrounds Ordinals Protocol as Stably USD Enters Bitcoin Blockchain
Whales Shift Focus to Stablecoins, Signaling Expectations of Market Volatility