SEC's Framework Leaves Crypto Businesses in the Dark
Billionaire investor Mark Cuban is the latest to call out the United States Securities and Exchange Commission (SEC) for its confusing stance on registration processes for cryptocurrency businesses . According to Cuban the lack of information in the SEC's Framework for Investment Contract Analysis of Digital Assets has made it incredibly tough for companies to figure out what qualifies as a security in the wild world of crypto.
In a tweet on June 11 Cuban vented his frustration saying that the SEC's webpage items were not part of the registration process . He emphasized that this lack of clarity has made it nearly impossible for anyone even with an army of securities lawyers to determine what is and isn't considered a security in the cryptocurrency space.
This is an SEC WEB PAGE about the howey test and tokens that often conflicts with what @SEC_Enforcement has said publicly. It's worth a read to get more clarity on what may or may not be a security https://t.co/m5E9V0Pd18

Unfortunately none of the elements presented in this… https://t.co/iZ9Gn5SADK pic.twitter.com/kGHgsZkOaH

— Mark Cuban (@mcuban) June 11, 2023
Navigating SEC's Requirements under Federal Securities Laws
While the SEC's document fails to provide a comprehensive breakdown it does outline the requirements that companies must adhere to under federal securities laws . One key obligation is the disclosure of all crucial information to investors ensuring they can make well-informed investment decisions and understand the critical management efforts affecting a business's success.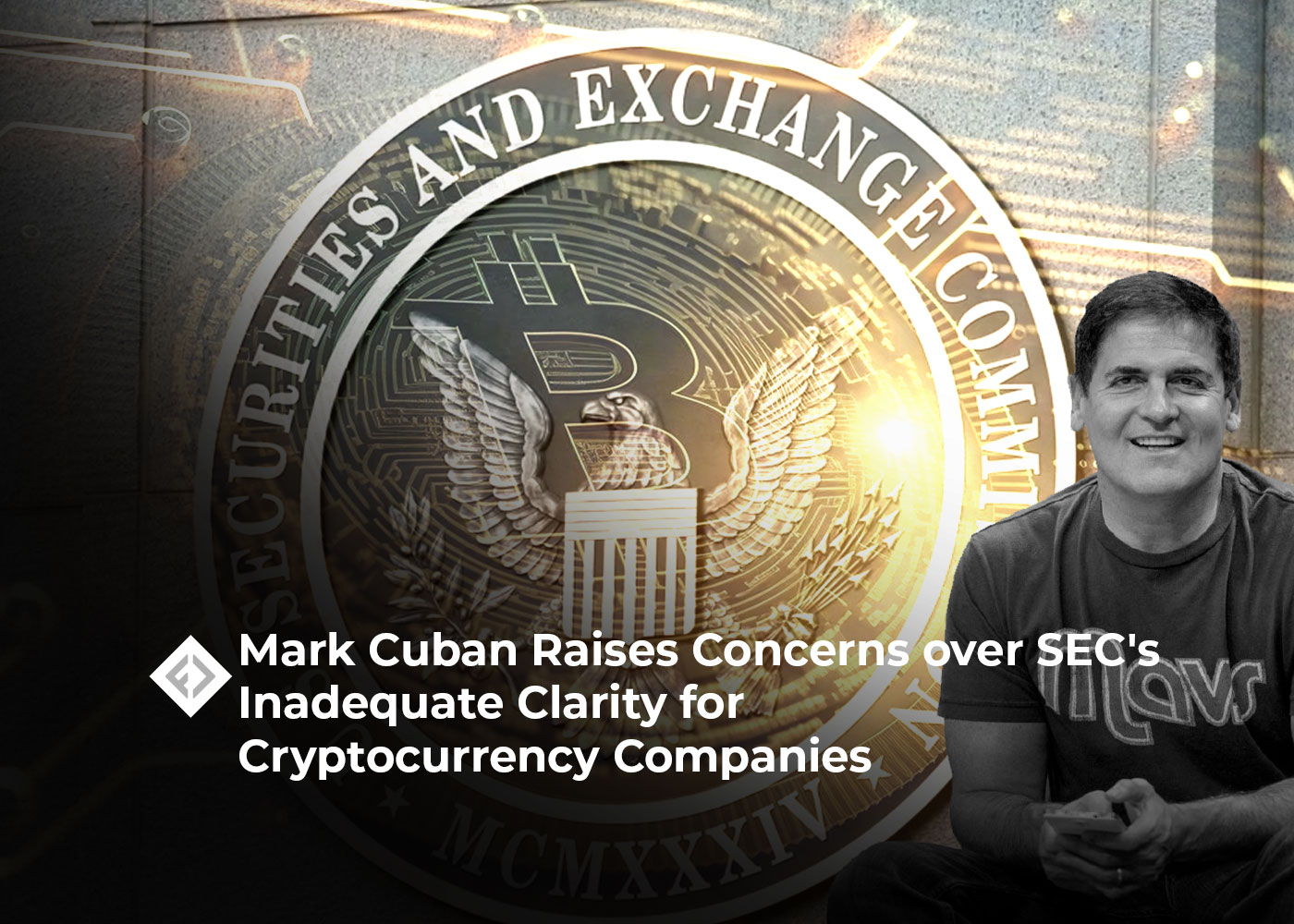 Cuban pointed out that other areas of the financial industry benefit from greater transparency provided by the SEC . Instead of labeling "equity loans" as securities or taking legal action against brokers and banks , they engage in a more conversational approach . Cuban argues that the SEC should adopt a similar strategy for cryptocurrencies to determine which aspects should be deemed securities.
Here is the SEC calling the stock loan industry "opague" and requiring transparency. Note, they are not calling "stock loans" a security as they are trying to do with the loaning of crypto assets. Nor are they suing the Stock Loan Departments of brokers/banks. They are going… https://t.co/0gSjAuAkWS pic.twitter.com/GfWm3m1jOB

— Mark Cuban (@mcuban) June 9, 2023
Senator Lummis Joins the Chorus against SEC's Framework
US Senator Cynthia Lummis has also chimed in criticizing the SEC for its lack of a robust legal framework or clear legal guidance to assist companies in complying with regulations . Lummis stresses the importance of providing proper guidance to navigate the ever evolving cryptocurrency landscape and avoid unnecessary legal complications.
My statement on the SEC suing Coinbase, inc. https://t.co/5KNEM0IPSV pic.twitter.com/EgRIxrIcjj

— Senator Cynthia Lummis (@SenLummis) June 6, 2023
SEC Chairman Responds , Rejections Persist
In response to the mounting criticism SEC Chairman Gary Gensler stated during the Global Exchange & Fintech Conference on June 8 that a registration process does exist and companies are aware of how to go about it . Gensler's comments came after Coinbase and Robinhood claimed they had attempted to register but were denied by the SEC.
Today we charged Coinbase, Inc. with operating its crypto asset trading platform as an unregistered national securities exchange, broker, and clearing agency and for failing to register the offer and sale of its crypto asset staking-as-a-service program.https://t.co/XPG2gDkxtV pic.twitter.com/hCdVMw8B2v

— U.S. Securities and Exchange Commission (@SECGov) June 6, 2023
As the debate rages on the lack of clarity surrounding registration processes for cryptocurrency companies remains a contentious issue . Figures like Mark Cuban and Senator Cynthia Lummis argue that the SEC must provide clearer guidelines and legal frameworks to enable companies to comply with regulatory requirements more effectively.
,
You may be interested in:
Harnessing AI and Blockchain for Sustainable Agriculture and Climate Adaptation
Global Financial Leaders Embrace Crypto's Potential, Ripple Report Reveals
MicroStrategy's Michael Saylor Predicts Banks Will Inevitably Offer Bitcoin Storage Services