The proliferation of robo-advisors has made investing easier and more accessible for the average person. Robo-advisors are digital services that automatically manage your investment portfolio using a combination of algorithms and computer software. The market for robo-advisory services is becoming increasingly crowded, with new entrants promising a wide range of advantages. This article will examine the top UK robo-advisors in 2023, giving you all the knowledge you need to select the optimal platform for your specific financial goals.
What Are Robo-Advisors?
Robo-advisors are digital investment systems that use algorithmic and programmatic automation to handle portfolio management. Robo-advisors are financial service providers that utilize sophisticated computer algorithms to build a portfolio of investments for their clients based on the latter's stated objectives, risk tolerance, and personal investing preferences.
When the portfolio is set up, the robo-advisor will keep an eye on it and make adjustments as needed to ensure it stays at the right level of risk and return. Additional features, such as tax minimization, socially responsible investment choices, and retirement savings calculators, are provided by some robo-advisors. Investors searching for a low-cost, user-friendly investing solution may find robo-counselors appealing because of their lower fees compared to those of traditional financial advisors.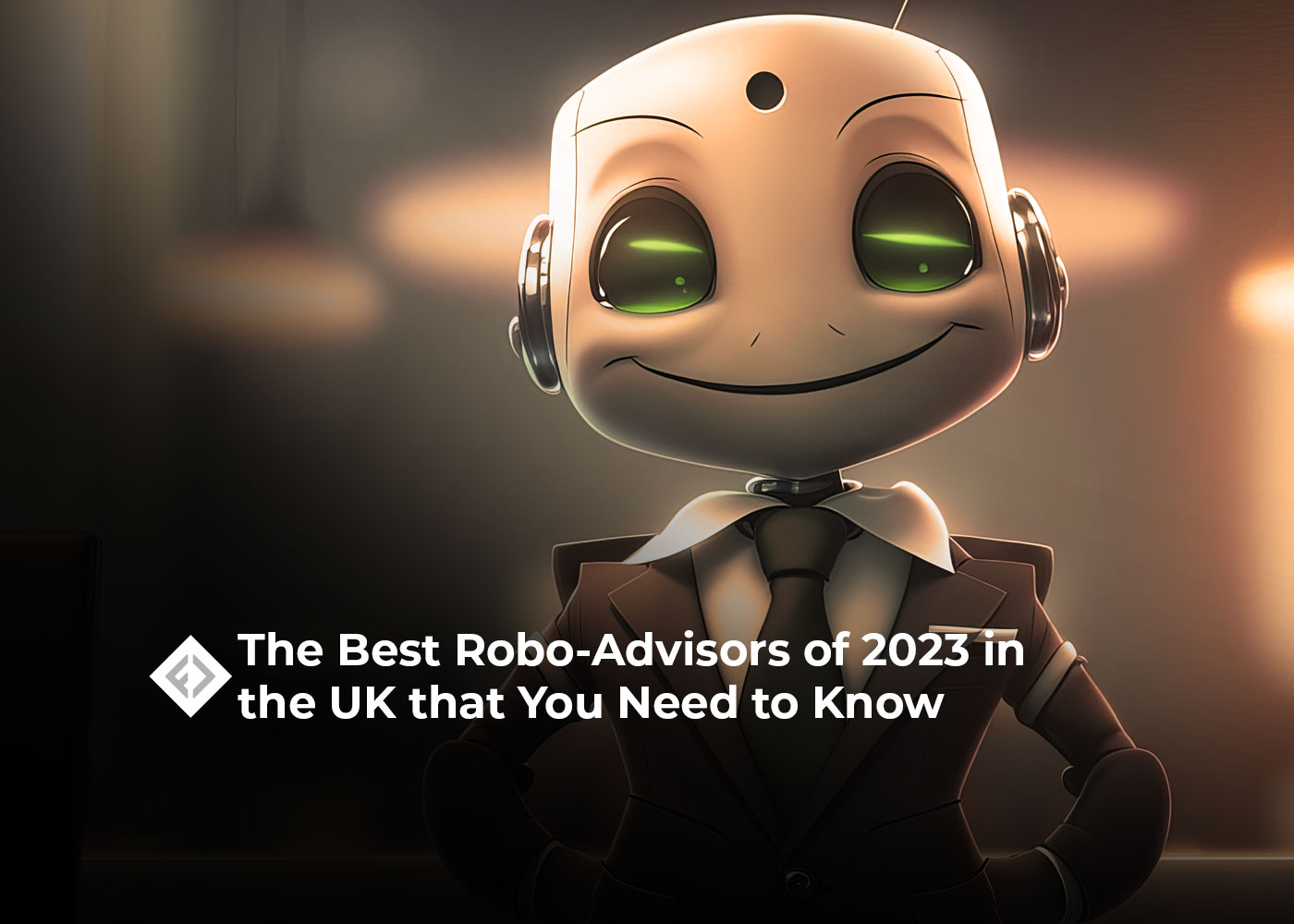 Top Robo-Advisors in the UK:
Here is some in-depth information on five of the top robo-advisors in the UK:
Wealthsimple:
Originally from Canada, Wealthsimple is now a prominent robo-advisor in the United Kingdom. They provide several investing options, such as a standard ISA, an ISA for stocks and shares, and a pension. You may open an account with them for as little as one pound, and their cost schedule is straightforward, with no surprises. The investment portfolios offered by Wealthsimple are constructed using ETFs (exchange-traded funds) that offer exposure to several asset classes like stocks, bonds, and real estate. If you're looking to invest in firms that share your values, Wealthsimple has you covered there, too.
Nutmeg:
Nutmeg is a UK-based robo-advisor that provides a selection of diversified and risk-managed investment portfolios. Offering a variety of investment accounts such ISAs, general investment accounts, and pensions with a low account minimum of just £500. Nutmeg uses an investment strategy informed by current portfolio theory and a diversified selection of exchange-traded funds (ETFs) to construct its portfolios. Furthermore, Nutmeg has introduced a fixed allocation portfolio, a low-cost investment option that provides a fixed allocation of stocks and bonds, in addition to their existing socially responsible investing option.
Moneyfarm:
Moneyfarm is a robo-advisor headquartered in the United Kingdom that provides investors with a selection of five portfolios tailored to their individual level of comfort with risk. A variety of investment accounts, including Individual Savings Accounts and general investment accounts, are available, and the minimum opening deposit is only £500. Moneyfarm's investment strategy is grounded in both modern portfolio theory and behavioral finance, and the firm's portfolios are constructed using a variety of ETFs. Moneyfarm provides instructional resources for prospective investors and a free portfolio evaluation service for current ones.
Scalable Capital:
Scalable Capital is a robo-advisor located in the United Kingdom and Germany that provides a selection of investment portfolios tailored to each client's individual risk tolerance. They provide a variety of investment accounts, such as ISAs and general investment accounts, with a low account minimum of just £10,000. Scalable Capital's investing strategy is founded on current portfolio theory, and their in-house developed risk management technology, and their portfolios are constructed using a variety of ETFs. New investors can take advantage of Scalable Capital's free portfolio review service and extensive educational materials.
AJ Bell Youinvest:
AJ Bell Youinvest is a robo-advisor headquartered in the United Kingdom that provides access to individual savings accounts (ISAs), general investment accounts (GIAs), and pensions. You can open an account with as little as one pound and choose from a variety of investments or use one of their pre-made portfolios. Bell, AJ Youinvest's pre-built portfolios use a passive, buy-and-hold investment strategy and are constructed from a variety of funds and ETFs. Webinars and investment guides are only two of the many instructional tools available.
How to Choose the Best Robo-Advisor:
Here are some things to think about when deciding which robo-advisor is right for you:
Fees

: Robo-advisors' low fees, in comparison to those of human financial advisers, are a major benefit. It is vital to pay attention to price structures because fees might vary widely among robo-advisors. Find the best value for your money by comparing the fees of various robo-advisor platforms, and prioritize those that have simple and straightforward fee structures.

Investment Options

: There is a wide variety of investment alternatives and portfolios available from various robo-advisors. Think about whether you want your money invested in equities, bonds, or real estate, and then find a robo-advisor that does that. Also, if you want to put your money to work for a cause you believe in, you can find robo-advisors that specialize in socially responsible investing.

Account Minimums

: High account minimums may prevent some potential clients from using robo-advisors. Make sure the required minimum investment for each robo-advisor fits within your financial plan.

User Experience

: The user's perspective is crucial, so keep it in mind as well. Try to choose a system with a simple, straightforward interface. It's possible to use a robo-advisor's mobile app to keep tabs on your portfolio and make adjustments while you're out and about.
By giving careful thought to these concerns and conducting thorough research, you may select the most suitable robo-advisor for your needs. Reading reviews and contrasting different options is another great method to make a well-informed choice.
Conclusion:
In conclusion, robo-advisors are rapidly gaining favor as a means for investors in the United Kingdom to manage their capital and grow their wealth. Investing is now within reach for more people thanks to its inexpensive costs, automated investment management, and user-friendly platforms. Investors can find the best robo-advisor to meet their needs and objectives by comparing the market's various offerings in terms of fees, investment possibilities, account minimums, and user experience. As the popularity of robo-advisors in the United Kingdom rises, investors can anticipate new developments and opportunities in the industry.
You may be interested in:
Crypto Reinvesting 101: How to Grow Your Portfolio
Freetrade vs Hargreaves Lansdown: Which is Better?